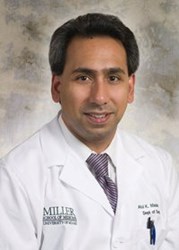 There is a difference between obesity and weight gain, a change in health habit is the first line of defense followed by surgery only if necessary. To learn more call: 800-472-4900
(PRWEB) January 30, 2013
Bariatric surgeon Dr. Atul Madan backs such changes in labeling and indicates that the more patients are aware of what the labels mean, the better their food choices can be. Dr. Madan: "It is indisputable that a healthier diet and exercise are two ways to avoid obesity however knowing what one consumes is important. The amount of calories and fat are two of most important information to look at."
The recent FDA study is in accordance with Dr. Madan's suggestions. That study found that the number of Americans who read labels on food rose from 44 percent to 54 percent respectively from 2002 to 2008. The research also indicates that people had an easier time assessing the amount of calories or fat than any other numbers.
Bariatric surgeon Dr. Madan -- "there needs to be a better display of the nutritional contents of food. Instead of the nutritional information per serving, the labels should indicate the information for the entire package."
Awareness on the nutritional contents of food is an early weapon in the fight against obesity. Dr. Madan has been a strong advocate for better food labeling so that patients can make healthier choices. The labeling alone cannot help eradicate obesity unless it is coupled with other healthier choices.
Dr. Atul Madan has published over 175 articles on the subject of obesity and ways to lose weight. He is an expert on the laparoscopic gastric bypasses and laparoscopic adjustable gastric banding procedures having performed over 2000 surgeries. Dr. Madan has been one of the first to suggest an endoscopic treatment (a procedure without any incisions) for weight regain after open and laparoscopic gastric bypass.
For more information on bariatric surgeon Dr. Atul Madan or the LAP-BAND procedure, call 1-800-472-4900, or review more on Dr. Madan on http://www.obesityhelp.com/profiles/bariatric-surgeon/dr-atul-madan/.