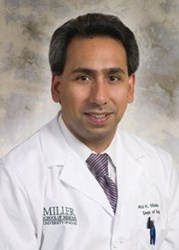 Dr. Atul Madan Offers a Surgical Solution As Last Resort For Those Fighting Obesity & a 20 Min Initial Evaluation to Indicate Whether this is the Right Procedure, 800-472-4900.
(PRWEB) February 12, 2013
Dr. Madan: the combination of type 2 diabetes and obesity can be fatal, especially when combined with other factors related to metabolic syndrome. Medicine Net defines 'metabolic syndrome' as "a constellation of conditions that place people at high risk for coronary artery disease", including such factors as type 2 diabetes, obesity, both types of cholesterol and abnormally increased insulin levels. The study published in January 2013 by Dr. Abhishek Singhai in the Journal of Evolution of Medical and Dental Sciences (Volume 2/ Issue 2/ January 14, 2013), focused on the effects of bariatric surgery on glycemia and diabetes due to weight loss. The study published in February 2012 focused on the post-operative effects of bariatric surgery on those with confirmed metabolic syndrome. Bariatric surgeon Dr. Madan reviews both studies with the perspective that obesity can be life-threatening as a risk factor in cardiovascular disease, and suggests that the LAP-BAND® Adjustable Gastric Banding System (LAP-BAND®) is one of the least invasive surgical options for promoting necessary weight loss for obesity.
The January 2013 cohort study was done in Indore, India, on 40 patients with a BMI of over 35 with type 2 diabetes. One of the obesity difficulties mentioned was a high glucose level that leads to insulin resistance, contributing to increased issues with weight loss, but bariatric surgery was offered as a possible long-term solution. "Moderate weight loss following a low caloric diet can improve insulin action and secretion, but the effect is rather weak...Conversely bariatric surgeries maintains a weight loss of 33% of body weight for >10 years, a result associated with normalization of glucose levels in most patients with impaired glucose tolerance and type 2 diabetes." Although only three patients showed diabetic remission within six months of the surgery, all of the patients showed at least a 50% reduction in unnecessary weight, and a reduced amount of diabetic medication. Dr. Madan completely agrees with the study's conclusion: "Thus, there can be little doubt that in very obese patients with type 2 diabetes, bariatric surgery in general is a highly effective means of treating type 2 diabetes."
Having performed more than 2,000 laparoscopic gastric bypasses and gastric banding procedures, LAP-BAND® surgeon Dr. Madan is also pleased to note that both methods were used in the February 2012 study. Out of the more than 186,0000 cases reviewed on the Bariatric Outcomes Longitudinal Database system (BOLD), over 23,000 showed the factors of metabolic syndrome. Gastric bypass was the most commonly used surgical method, with gastric banding in second place, which surprised the researchers. Obese patients with metabolic syndrome showed an increased likelihood of post-operative complications, though there was a high level of diabetes reversal, sleep apnea and weight loss.
The LAP-BAND® system was the first gastric banding method approved by the U.S. FDA (Food and Drug Administration) for weight reduction, and some research has indicated that it's one of the best long-term methods for permanent weight loss. As a bariatric surgeon, Dr. Atul Madan does require that his patients meet certain requirements, such as lack of results with other weight loss methods, and a BMI of over 35 with existing health complications.
As the former Chief of Laparoendoscopic and Bariatric Surgery Division at the University of Miami, Dr. Madan may well be considered an expert in his field. He has also written 175 articles, was the first in Memphis to perform a laparoscopic gastric bypass, and was first to offer an incision-less treatment for post-operative weight gain. Perhaps his experience has contributed to Dr. Madan's patient reviews, which remain consistently high - he received the 2011 and 2012 Patients' Choice Award.
For more information on Dr. Atul Madan or the LAP-BAND procedure, call (213) 973-2263, or review more on Dr. Madan on http://dr-atul-madan.com/