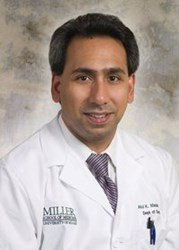 Dr. Madan MD is a world-renowned expert in laparoscopic and bariatric program. (213) 973-2263
Los Angeles, California (PRWEB) February 17, 2013
The most common measure of obesity is the body mass index or BMI. A person is considered overweight if his or her BMI is between 25 and 29.9; a person is considered obese if his or her BMI is over 30.
Dr. Madan explains that obesity is a common, serious and costly reality in many Americans' lives. More than 1/3 of adults in the U.S. are known to be obese or border line obese. Men and women are affected by this condition differently. Among non-Hispanic black men and Mexican-American men, those with higher incomes are more likely to be obese than those with low income. But in women these statistics are reversed, women with higher income are less likely to be obese than low-income women.
There is no significant relationship between obesity and education among men. With women, however, there is a trend—those with college degrees are less likely to be obese compared with less educated women.
In 1998 the estimated medical costs of obesity were as high as $78.5 billion, and Medicare and Medicaid financed approximately half of that in different categories for inpatient, non-inpatient, and prescription drug spending. By 2006 obesity was responsible for almost $40 billion of increased medical spending, including $7 billion in Medicare prescription drug costs. And by 2008 the medical spending increased roughly $147 billion per year.
What surgical options are used to treat obesity?
Weight loss surgeries such as LAPBAND, can help treat obesity.
Dr. Madan encourages his patients to start by adopting a healthier and more active lifestyle before considering surgical procedures. However, when patients are overweight by at least 30 pounds and suffering from one or more obesity related conditions, LAPBAND® System may be a good choice to help patients lose weight. Dr. Madan believes that its critical for his patients to avoid weight-related health risks, and learn to lead and enjoy a more active lifestyle.
"You should only consider surgical treatment for weight loss if you: Have a BMI of 40 or higher, or have a BMI of 35 or higher and weight-related health problems, or have not had success with other weight-loss methods," says Dr. Madan.
The LAPBAND® Adjustable Gastric Banding System is the first U.S. Food and Drug Administration (FDA) approved adjustable gastric band for use in weight reduction.
The Lap-Band System® and Realize Band, both silicone gastric bands, offer unique benefits compared to other weight loss surgeries. In this procedure a band is placed around the upper stomach to create a small pouch and narrow passage into the rest of the stomach. This limits the amount of food that can be consumed. The size of the band can be adjusted and a surgeon can remove the band if needed. Gastric Banding is a minimally invasive approach that does not require cutting or stapling of the stomach or gastrointestinal re-routing. The LAPBAND® and Realize Band can both be adjusted to fit each individual needs in just one doctor visit.
Dr. Madan, graduated from Lehigh University in Pennsylvania, later received his medical degree at the Medical College of Pennsylvania, he has published numerous medical publications. Throughout his career, Dr. Atul Madan has received numerous awards and honors, in addition to having committee positions at various places including American Society for Metabolic and Bariatric Surgery, American Society for Metabolic and Bariatric Surgery, Society of American Gastrointestinal Endoscopic Surgeons. He has also been on the editorial boards of Bariatric Nursing and Surgical Patient Care, Obesity Surgery, Society of American Gastrointestinal Endoscopic Surgeons Academic Career Development Seminar.
Throughout his career, Dr. Madan has performed thousands of surgeries and has a list of clients that have enjoyed high quality medical treatment.
Dr. Atul Madan is now offering a 20 minutes free consultation for individuals suffering from obesity or borderline obesity, To Learn more about weight control options including LAPBAND® and scheduling your consultation, Call: (213) 973-2263. or visit http://dr-atul-madan.com/