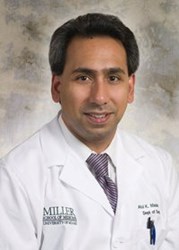 Dr. Madan Reminds And Encourages Laparoscopic Surgery After Reviewing Study on Mortality Issues (213) 973-2263
Los Angeles, California (PRWEB) February 18, 2013
Dr. Madan An article in Obesity Surgery's July 2012 publication had calming news for those nervous about mortality risks in bariatric surgery. Unfortunately, there is no current method that completely negates the possibility of fatality inherence in surgery, especially as bariatric surgery is most often reserved for those with morbid obesity. In this particular study done in Spain, just under 300 patients went through various forms of bariatric surgery between January 2005 and October 2010. Types of surgery included biliopancreatic diversion surgery, laparoscopic gastric bypass and sleeve gastrectomy. Dr. Madan was the first in Memphis to perform a laparoscopic gastric bypass. To date, he has performed over 2,000 laparoscopic gastric bypasses and gastric banding procedures, and was first to offer an incision-less treatment for post-operative weight gain. As a LAP-BAND® surgeon, and as the former Chief of Laparoendoscopic and Bariatric Surgery Division at the University of Miami, Dr. Madan may well be considered an expert in his field.
Although bariatric surgeon Dr. Atul Madan does support the benefits of the LAP-BAND® Adjustable Gastric Banding System (LAP-BAND®) for qualified candidates intent on reducing morbid obesity, he does inform candidates that it is not the only surgical method for treating obesity. Biliopancreatic diversion as defined by WebMD simply means that the stomach is made smaller and food is re-routed through less of the small intestine. Fewer calories are absorbed while a feeling of fullness is achieved faster, making weight loss somewhat easier. Candidates for this surgery are required to have a BMI of at least 45 if not 50, who have been unable to reach optimal weight loss in traditional ways. The drawback to this surgery is a permanent post-surgical array of supplements to be taken, because of the lack of nutrients the body is able to absorb, due to the re-routing of the stomach to a lower part of the small intestine. Other complaints include diarrhea as the body adjusts to the difference in food processing, blood clots, and gallstones. However, since studies have confirmed that biliopancreatic diversion has resulted in significant excess weight loss of up to 80%, even if some weight is regained, many patients consider this surgery to be worth the risks involved.
Laparoscopic gastric bypass and gastric banding such as the LAP-BAND® system were created in the early 1990's. Not long after, studies began to point out mortality differences between laparoscopic and open bariatric surgery, as well as a reduction in hospital stays and pain after surgery. The Spanish study found similar differences between invasive and laparoscopic surgery, noting that the average diversion surgery resulted in slightly higher mortality rates and a longer hospital stay by 3 days. Mortality rates remained under 2.5%, which is low considering the increased risks of morbid obesity in these life-threatening areas: stroke, congestive heart failure, anesthetic-related death, and diabetes.
Sleeve gastrectomy procedures have only just become more popular, so fewer long-term studies exist on the sleeve operation than with laparoscopic procedures. Essentially, a sleeve operation reduces the stomach's size by 80% to 85%, thus drastically reducing appetite. Although stomach reduction is an irreversible procedure, many seem to think that the sleeve procedure has inherent benefits when balanced against diversion and bypass surgeries, which add complexity because of the internal rearrangement of the organs. However, Dr. Madan cautions patients on possible complications of invasive surgery such as gastric bypass or sleeve gastrectomy, because of the possibilities of staple-line failure that results in regaining weight, and the risk of sepsis setting in post-surgery. Further studies may shed light on other possible complications, such as gastroesophageal reflux disease and dumping syndrome. A Stanford study published in 2012 indicated that the sleeve procedure resulted in fewer fatalities than in gastric bypass after 30 days, but gastric banding mortalities were lower than sleeve procedures by more than 50%.
In fact, bariatric surgery or gastric banding such as the LAP-BAND® system may be the most effective method for maintaining a large weight loss, says Dr. Madan. Although he cautions patients that they must meet certain parameters (BMI of over 40, BMI of 35 with weight-related issues, or significant lack of success with weight loss), it's certainly evident that some methods are better than others.
Dr. Atul Madan's medical degree was obtained at the Medical College of Pennsylvania, and he has served on highly regarded committees such as the American Society for Metabolic and Bariatric Surgery and the Society of American Gastrointestinal Endoscopic Surgeons. Dr. Madan won the 2007 SAGES Young Investigator Award, was honored by the American Medical Association Physican's Recognition Award, among others. Dr. Madan's patient reviews are consistently high, and he received the 2011 and 2012 Patients' Choice Award.
For more information on Dr. Atul Madan or the LAP-BAND procedure, call (213) 973-2263, or review more on Dr. Madan on dr-atul-madan.com