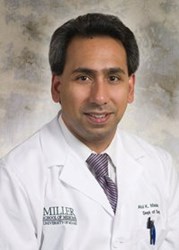 Dr. Madan Comments on Findings of Bariatric Surgery Study and its Positive Effects on Type 2 Diabetes (213)973-2263
Los Angeles, California (PRWEB) February 11, 2013
Although type 2 diabetes has long been linked with morbid obesity, some of the lesser-known side effects involve renal complications and eye issues. A recent study on bariatric surgery has just been released, outlining the positive effects on sufferers of type 2 diabetes with internal organ damage. As a bariatric surgeon,Dr. Madan points out that gastric banding procedures such as the LAP-BAND® system were used in the study, along with gastric bypass and sleeve gastrectomy procedures.
Researchers from the Imperial College in London studied 75 patients who went through bariatric surgeries, and presented their data at the 2013 Excellence in Diabetes conference held in Istanbul, Turkey on February 6-9, 2013. Dr. Carl LeRoux noted that bariatric surgery was used in the past as a method for "treating glycemia", but options have opened up for treating issues related to metabolic syndrome. LAP-BAND® surgeon Dr. Madan agrees with Dr. LeRoux's warning to use weight-loss surgery "as an add-on therapy to medicine", noting that his experience in over 2,000 laparoscopic gastric bypasses and gastric banding procedures has merely confirmed his belief that LAP-BAND® surgery can be used as a long-term method of weight loss if combined with a healthy and active lifestyle.
Dr. Madan also believes that the LAP-BAND® Adjustable Gastric Banding System (LAP-BAND®) is one of the least invasive and effective surgical options for treating obesity, but warns against overstating possible benefits. The UK study pointed out those previous studies showing an 80% remission rate of diabetes may have been overly optimistic, and that current studies show a diabetes remission rate between "34% to 41%". Dr. Atul Madan agrees that bariatric surgery is not a cure-all, though it does often reduce side effects, such as renal issues. The UK study showed improvement in proteinuria or albuminuria, which is linked to the progression of kidney disease in diabetic patients. One of the surprising turnarounds involved retinopathy, or 'disease of the retina'. Patients showed some improvement in eye issues, a year after the surgery, which has not been observed in other studies. Additional improvements included BMI reductions, decrease in blood pressure and significant type 2 diabetes remissions.
The LAP-BAND® system was the first gastric banding method approved by the U.S. FDA (Food and Drug Administration) for weight reduction.As a bariatric surgeon, Dr. Madan does require that his patients meet certain requirements, such as lack of results with other weight loss methods, and a BMI of over 35 with existing health complications.
As the former Chief of Laparoendoscopic and Bariatric Surgery Division at the University of Miami, Dr. Atul Madan may well be considered an expert in his field. He has also written 175 articles, was the first in Memphis to perform a laparoscopic gastric bypass, and was first to offer an incision-less treatment for post-operative weight gain. Perhaps his experience has contributed to Dr. Madan's patient reviews, which remain consistently high - he received the 2011 and 2012 Patients' Choice Award.
For more information on Dr. Madan or the LAP-BAND procedure, call (213)973-2263, or visit http://dr-atul-madan.com/