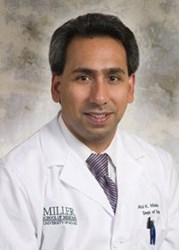 There is a difference between obesity and weight gain, a change in health habit is the first line of defense followed by surgery only if necessary. To learn more call: (213)973-2263
Los Angeles, California (PRWEB) February 14, 2013
As statistics continue to point to the problem of obesity in the United States and developing countries, more studies point to bariatric surgery as a means of reducing obesity. A recent article in Science Daily has joined other publications calling obesity an American "epidemic...with more than one-third of adults over age 20 classified as obese." The article went on to quote statistics from the American Society for Metabolic and Bariatric Surgery, saying that a greatly increased number of people have engaged in bariatric surgery to drop excess weight of up to 100 pounds or more: "220,000 people underwent bariatric surgery in 2009 in the United States, up from about 13,300 procedures in 1998". As a bariatric surgeon, Dr. Madan affirms the increase of weight loss surgery. He has had experience in over 2,000 laparoscopic gastric bypasses and gastric banding procedures, and believes that LAP-BAND® surgery can be used as a long-term method of weight loss if combined with a healthy and active lifestyle.
According to Science Daily, ASU researchers reported positive findings about bariatric surgery in Colorado at the December 2012 Meeting of the American Sociological Association (ASA). The study, called "Social and Health Changes Following Bariatric Surgery", showed improvement in serious chronic health issues such as heart disease, diabetes, bad cholesterol levels and sleep apnea. The study participants had an age range between mid-20's and late 70's, and averaged 95 pounds of weight loss between a participant who added 80 pounds and one who dropped 260 pounds. Weight loss was the norm, but the researchers were surprised at the other benefits shown after surgery.
Study participants were part of an online support group and suffered from morbid obesity, which goes far beyond a body-mass index (BMI) of 35, to a body weight 2-3 times that of an ideal weight. The significant weight loss sustained by these volunteers also resulted in reduced depression and better relationships with family and friends. Perception of personal appearance did not show such improved numbers, possibly because of post-surgery issues such as skin flaps and other cosmetic differences.
Dr. Madan stresses to candidates for bariatric surgery (such as LAP-BAND® gastric banding and gastric bypass), that post-operative consultations can aid in overcoming these difficulties, as well as adjustments or possible slippage of the gastric band. No surgery is without difficulty, says Dr. Madan. He notes that many of his patients have reported a better self-image and other social improvements after surgery, similar to study participants feeling an improved perception in "overcoming society's stigma of being overweight". Dr. Madan's patient reviews are consistently high, and he received the 2011 and 2012 Patients' Choice Award. He has performed more than 150 LAP-BAND procedures.
As a LAP-BAND® surgeon, Dr. Madan is qualified to use this FDA-approved procedure for weight reduction. The LAP-BAND® Adjustable Gastric Banding System consists of a silicone gastric band that is inserted and placed around a patient's stomach to slow down food intake. The cinched-in, narrow opening of the stomach looks rather like a gourd, and reduces the risk of malnutrition and gastric infection caused by other procedures.
For more information on Dr. Madan or the LAP-BAND procedure, call (213) 973-2263, or review more on Dr. Madan on http://dr-atul-madan.com