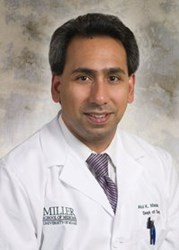 Dr. Madan Reviews Research on Sleeve Gastrectomies and Other Bariatric Surgeries Designed to Deal with Obesity.(213) 973-2263
(PRWEB) February 19, 2013
The American Society for Metabolic & Bariatric Surgery (ASMBS) recently presented findings regarding the sleeve gastrectomy procedure, indicating that it may be a good additional method of dealing with severe and morbid obesity issues. Studies included research from Stanford University, San Diego's Naval Medical Center and Cleveland Clinic Florida. At the 29th annual ASMBS conference, laparoscopic sleeve gastrectomy was contrasted with the more popular procedures of laparoscopic gastric bypass and laparoscopic gastric banding. As a bariatric surgeon, Dr. Madan reviews the ASMBS conference and gives his expert opinion on the LAP-BAND® Adjustable Gastric Banding System (LAP-BAND®). Having written 175 articles and performed over 2,000 laparoscopic gastric bypasses and gastric banding procedures, Dr. Madan is fully aware that LAP-BAND® is not the only surgical method for treating obesity.
In San Diego, the ASMBS findings did seem to indicate that the sleeve gastrectomy procedure has advantages over the other two laparoscopic methods. For example, the Stanford study reviewed information from 270,000 procedures over a three-year period, from 2007 to 2010. Sleeve gastrectomy was used in 6% of those cases, and after 30 days there was a complication rate of under 1%. Gastric bypass showed a slightly higher rate of 1.25%, and gastric banding had the lowest complication rate at .25%. The mortality rate followed the same pattern, with the highest numbers coming from gastric banding procedures (.14%), sleeve gastrectomies in the middle (.08%) and gastric banding at the lowest end (.03%). Dr. Madan pointed out that although the sleeve method seemed to also show a higher weight loss rate than gastric banding, the study only showed results between a 30-day period and a year-long study, and that much more study is required to truly assess both mortality rates and weight loss over time. The Center for Medicare and Medicaid Services (CMS) has ruled that gastric sleeve operations should not be adopted without question, as current studies are insufficient evidence to warrant a nationwide approval.
The Cleveland Clinic Florida study presented by ASMBS showed a marked difference between sleeve surgery, gastric bypass and other bariatric surgery methods. Essentially, the sleeve procedure, in which 85% of the stomach is permanently removed and the remaining tissue held together by staples, showed a 1.5% re-operation rate. The other methods showed a 7% and a 15% re-operation rate. However, points out LAP-BAND® surgeon Dr. Madan, the study only reviewed cases between 2005 and 2011. Longer studies done over a 15-year or 20-year time frame may reveal unknown complications associated with such a drastic stomach removal process.
The third study, done at the San Diego Naval Medical Center, showed a nearly 10% weight loss increase between sleeve procedures and gastric bypass, performed on over 480 obese patients. Follow-up periods of two and five years showed no major weight gain relapses.
Current issues for sleeve gastrectomy procedures include issues with nutrient absorption, esophageal reflux, staple-line bleeding and leaks, injury to surrounding organs, and blood clots in the lungs. Only recently have sleeve gastrectomies been performed alone instead of with other bariatric procedures (such as a gastric bypass), and few studies exist that track the effects of sleeve gastrectomies over a period of more than five years. By contrast, the LAP-BAND® gastric banding procedure has been approved by the Food and Drug Administration (FDA), and studies have been performed since its introduction in 1993, showing marked long-term improvements in weight loss and overall health. Findings from an Australian study done over a 15-year period were released in January 2013, indicating that many of the over 3,200 patients maintained 26 kilograms (about 60 pounds) of weight loss long-term, or up to half their excess weight. Also, gastric banding is normally performed in a day, whereas stomach surgery and gastric bypass surgery requires a longer hospital stay, often giving occasion for complications to surface. Given the longer track record of the LAP-BAND® procedure, Dr. Atul Madan continues to support the Australian study findings and the overall effectiveness of gastric banding.
As a LAP-BAND® surgeon, Dr. Madan has written 175 articles, and was the first in Memphis to perform a laparoscopic gastric bypass. He was first to offer an incision-less treatment for post-operative weight gain. As the former Chief of Laparoendoscopic and Bariatric Surgery Division at the University of Miami, he may well be considered an expert in his field. Dr. Madan won the 2007 SAGES Young Investigator Award, was honored by the American Medical Association Physican's Recognition Award, among others. Dr. Madan's patient reviews are consistently high, and he received the 2011 and 2012 Patients' Choice Award.
For more information on Dr. Madan or the LAP-BAND procedure, call (213) 973-2263, or review more on Dr. Madan on dr-atul-madan.com