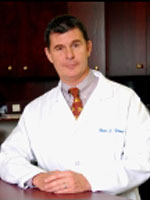 Dr. Marc Yland will perform the AccuraScope procedure at North American Spine's New Jersey location.
Hackensack, NJ (PRWEB) April 27, 2012
North American Spine is pleased to announce that Dr. Marc Yland has joined its growing network of partner physicians. Dr. Yland will perform the AccuraScope® Discectomy and Neural Decompression procedure at the Hackensack Surgery Center, a leader in same-day minimally-invasive surgery located in Hackensack, New Jersey.
In the AccuraScope procedure, a physician inserts a very thin endoscope, holding a high-definition camera and a laser, into the spinal canal via an opening in the base of the spine. This advanced approach allows the physician to diagnose and treat multiple areas of the spine in one procedure, with more precision and less trauma than other types of minimally invasive spine surgery.
The AccuraScope procedure helps to treat lower back pain or numbness caused by a bulging or herniated disc, sciatica, spinal stenosis, degenerative disc disease, arthritis of the spine, pinched nerve, scar tissue, foraminal stenosis or facet disease.
"Dr. Yland's extensive expertise in pain management, dedication to patient care, and interest in innovative techniques makes him an excellent fit for North American Spine's new location," says Sam Bailey, Ph.D., the chairman of North American Spine.
As the founder of Interventional & Multidisciplinary Pain Management in Stony Brook and Huntington, New York, Dr. Yland leads a team using a multidisciplinary approach to chronic pain treatment. Dr. Yland is also the president of the Suffolk County Medical Society and is a clinical assistant professor.
Dr. Yland has practiced and taught for more than 20 years, has authored several publications, holds multiple patents, and has been the first to apply several pain management techniques on Long Island.
The Hackensack Surgery Center is located at the intersection of route 95 and route 80, less than 30 minutes from Newark and within 2 hours of Philadelphia and New Haven. For those living in New York City without an automobile, the Hackensack Surgical Center is a short 30-minute bus ride from Port Authority.
North American Spine is currently scheduling AccuraScope procedures for the new location.
About North American Spine
North American Spine has partnered with leading spine surgery specialists to provide more than 40 procedures to treat neck and back pain. North American Spine pioneered the innovative AccuraScope® Discectomy and Neural Decompression - a minimally invasive procedure via the base of the spinal canal that allows physicians to diagnose and treat multiple levels of the spine in one 30-minute outpatient procedure. To date, more than 5,000 AccuraScope procedures have been performed by board-certified physicians with specialty training in interventional pain management.
North American Spine is a privately-held international company headquartered in Dallas, Texas, with physician locations in the United States, Germany, Belgium, Italy, Spain, Brazil and Mexico.
To learn more about North American Spine, call (877) 474-2225 or visit http://northamericanspine.com.