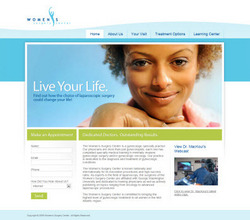 We made sure to compare our LRH results with data from highly respected and experienced robotics surgeons to ensure validity
Reading, PA (Vocus) June 23, 2010
According to a new study by two leading gynecological specialists at the Women's Surgery Center in Washington, patients undergoing hysterectomy for benign gynecologic conditions such as fibroids fare better in the hands of a skilled surgeon vs. high-tech robotics.
The study compared surgical outcomes of laparoscopic retroperitoneal hysterectomy (LRH) with those performed by the robotic approach using Da Vinci surgical system (DVSS) for benign gynecologic conditions. The results demonstrated that among other benefits, LRH dramatically reduces operating time, patient costs, and length of hospitalization and recovery for women undergoing hysterectomy.
The research, presented at the 2009 conference of the American Association of Gynecologic Laparoscopists and now under review for publication, involved a retrospective analysis of 139 LRH patients and data from two of the largest DVSS studies to-date.
"We made sure to compare our LRH results with data from highly respected and experienced robotics surgeons to ensure validity," said Natalya E. Danilyants, MD, a laparoscopic specialist at the Women's Surgery Center and one of the study authors. "The results were really quite striking."
From the length of the procedure to the average hospital stay to the low incidence of complications including mid-surgery conversion to laparotomy (requiring a more invasive open abdominal incision), LRH delivered much better results for patients than DVSS.
"Although robotics may be indicated for complex cardiothoracic or urological procedures, there is no indication at present for robotics in gyn surgery," adds Dr. Danilyants. "This is a situation where the right specialist can deliver far better results for the patient at a lower cost. Robotics are simply unwarranted."
Led by Medical Director Paul MacKoul MD, FACOG, Women's Surgery Center physicians specialize in advanced non-invasive surgeries such as LRH, which differs from standard laparoscopic hysterectomy in a number of ways. LRH involves retroperitoneal dissection, which helps the surgeon identify vital structures and thereby dramatically reduce complications and blood loss for patients. LRH allows a broader range of surgeries to be performed laparoscopically, but it also requires advanced training in minimally invasive surgery.
Experts in the field of laparoscopy, Dr. MacKoul and the surgeons of the Women's Surgery Center perform more LRH surgery than any other surgical gynecology practice in the Baltimore-Washington area. They are affiliated with George Washington University, provide training to physicians nationally, and actively publish on topics ranging from oncology to advanced laparoscopic procedures.
"One reason some physicians continue to utilize robotics for these procedures is that they haven't mastered the techniques to succeed with LRH," says Dr. MacKoul. "Women should ask their physicians about all the alternatives and not just assume that higher tech is always better for the patient."
About the Women's Surgery Center:
The Women's Surgery Center is a gynecologic specialty practice. All Women's Surgery Center physicians have completed specialty medical training in minimally invasive gynecologic surgery and/or gynecologic oncology. The practice is dedicated to the diagnosis and treatment of gynecologic conditions including uterine fibroids, ovarian cysts, and endometriosis, pelvic pain and ovarian, cervical and uterine cancers. They are committed to bringing the highest level of gynecologic treatment with minimal recovery times to all women in the Mid-Atlantic region. The Women's Surgery Center, under the leadership of Dr. Paul MacKoul, is known internationally for innovative procedures and high success rates for patients. For more information, please visit womenssurgerycenter.com or call 1-888-SURGERY.
###