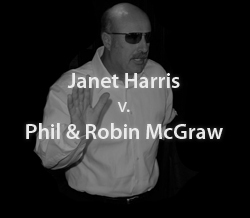 Its time for Dr. Phil to live by his own words and take responsibility for his actions.
Beverly Hills, CA (PRWEB) February 3, 2011
The lawsuit filed against Phil McGraw (Case # SC111297 filed at the Santa Monica Courthouse) and his wife Robin McGraw alleges that the couple's gross negligence resulted in serious injuries being inflicted upon their former best friend and confidant, Janet Harris.
According to court filings, while Janet was a guest at the McGraw's Beverly Hills manor, she was brutally mauled by their dog, "Maggie" without provocation or warning. The dog bite allegedly caused uncontrollable bleeding from deep puncture wounds, as well as cuts and abrasions inflicted on her arm and hand.
Complications from the dog bite injuries forced Janet to seek emergency medical treatment and required extended home nursing care to recover from an incapacitating infection called pastuerella multocida. Janet spent 7 days attached to an IV as well as being prescribed steroids and antibiotics.
The McGraw's allegedly refused to provide compensation or assistance to Janet to aid with her illness, instead leaving her to deal with mounting health problems and financial burdens alone. While their former best friend suffered severe physical pain and mental anguish, the McGraw's finalized the purchase of a new $29.5 million dollar Beverly Hills mansion.
Janet founded the Skin Rejuvenation Center of Beverly Hills 13 years ago. As a result of the injuries sustained, she was unable to maintain her livelihood, culminating in the loss of her business and indefinite inability to earn a living practicing her trade. She seeks compensation for general damages, medical treatment costs, loss of earnings, and pain and suffering.
The Nagelberg Bernard Law Group has been a nationally recognized personal injury law firm for over 30 years representing victims of catastrophic accidents and serious injuries.
# # #