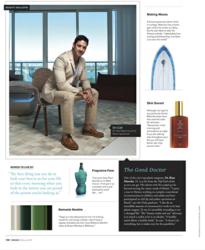 Dr. Maercks made me feel totally comfortable throughout the process.
Miami, FL (PRWEB) May 14, 2012
Dr. Rian Maercks, a respected Miami Beach cosmetic surgeon, is pleased to announce the launch of a new blog, miamibeachcosmeticsurgeryarts.com, which will share information about his innovative, histiocentric procedures and products. Fresh off his appearance at last week's 7th biennial International Cleft lip and Palate Foundation Congress overseas, Dr. Maercks looks forward to incorporating some of the techniques and information he has learned from other esteemed surgeons worldwide into his practice. The blog will allow Dr. Maercks to share his insights about various plastic surgery topics with readers across the United States and around the world.
Dr. Maercks has become one of the top-rated Miami cosmetic surgeons in Miami and across South Florida by continuously pushing the envelope in the art of cosmetic surgery. Dr. Maercks performs original and innovative procedures that produce natural-looking results, while minimizing swelling and other side effects, helping patients to achieve the appearances they want with little recovery time, and without the obvious look commonly associated with plastic surgery.
Dr. Maercks's innovative approach has made him one of the leading providers of breast augmentation Miami procedures and many other types of procedures. Dr. Maercks strives to minimize scarring and other side effects while helping patients gain confidence and enhance their lives.