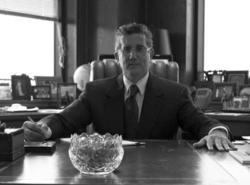 Dallas, TX (PRWEB) December 21, 2012
Today, Dallas County Court Judge Sally Montgomery executed a Temporary Injunction in favor of Dr. Richard Malouf and his family against Dallas real estate blogger Candace Evans (Dallas County Court at Law #3 case no. CC-12-06268-C).
The orders contained in the injunction are identical to the temporary injunction Judge Montgomery executed last week against WFAA and its reporter Byron Harris. The injunction orders prohibit Evans, WFAA, Harris or their agents from physically invading or entering the property of the Malouf's – their home on Strait Lane – or capturing images of the property from inside the property or overhead, until Dr. Malouf's trial on his causes of action on trespass, invasion of privacy and defamation against the parties is heard this coming September.
"My clients are still bitter about this situation and how it has affected and changed their lives. But Judge Montgomery's injunction orders are a victory for property and privacy rights in this country," comments Malouf's lawyer, Gregory Shamoun of Shamoun and Norman.
Per the injunction orders, the judge considered all the evidence and testimony presented, including arguments of counsel and applicable legal authorities and found that Dr. Malouf and his wife have demonstrated that Evans and the others were performing and about to perform more acts that related to the original claim – trespass to real property and invasion of privacy.
According to court documents, the Malouf's claim (Dallas County Court at Law #3 case no. CC-12-06268-C Original Petition) filed back in October alleges among other things that:
1. Evans allegedly trespassed onto the property last August in order to take pictures of the construction that was occurring at the home. A complaint to the Dallas police was made at that time.
2. Evans had earlier allegedly trespassed onto the property to interview without permission the Malouf's minor daughter at her birthday party on the house grounds.
3. Evans allegedly attempted to bribe workers at the Malouf's home to gain information and had allegedly conspired with a former Malouf employee in the home to plant a camera in the Malouf's bedroom.
4. WFAA and Harris allegedly defamed Dr. Malouf in a broadcast aired on June 26th by reporting that he had filed for bankruptcy when this was not and is not true and again on October 8th in an online article that stated that Dr. Malouf owed an Atlanta-based banking firm $3.2 million when this was not true.
"The Judge by executing the temporary injunctions makes very clear that it is one thing to make serious yet unproven allegations in the press about an individual, but it is entirely another for this entity and these individuals to conduct themselves so reproachfully in relation Dr. Malouf, his wife, their children and their property. The atmosphere has become poisoned to the point that individuals are leaving comments that can still be read online such as "I can imagine someone way up there being so upset about this wealth being acquired fraudulently that lightening strikes this abode and it burns to ashes ! Bad things have a way of happening to bad people. (http://www.candysdirt.com/2012/10/10/the-richard-malouf-house-on-strait-lane-goes-viral-the-latest-on-water-pic-park/)" as well as posts that have since been taken down but were entered into evidence on these injunctions that contained death threats. We take that very seriously," continues Shamoun.
"In the matter that was heard and concluded today, Dr. Malouf was before a court of law and won. I am satisfied, at least, that these injunctions will give my clients and their minor children a reprieve from the incessant intrusion into their daily lives at home by Evans, WFAA and Harris until this matter is heard fully," concluded Shamoun.
More information about the case can be obtained by contacting C. Gregory Shamoun, PC, Managing Partner, Shamoun and Norman at (214) 987-1745.