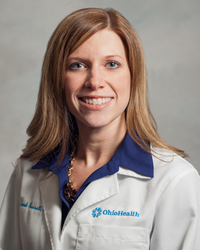 I am very patient with those I'm caring for and strive to make all the medical jargon easy to understand.
Columbus, OH (PRWEB) March 25, 2014
Women's health specialist, Dr. Sarah Russell has joined Buckeye OB/GYN to provide a full range of gynecologic care through all stages of a woman's life. Dr. Russell is accepting new patients at Buckeye OB/GYN in Grove City. She will offer early appointment times starting at 7:30 a.m., 3 days a week, and evening appointments on Tuesdays.
Dr. Russell attended medical school at West Virginia School of Osteopathic Medicine, and completed her OB/GYN Residency at Doctors Hospital in Columbus, OH. Dr. Russell enjoyed science during her time in school, which sparked her interest in medicine and becoming a physician.
"I ended up choosing OB/GYN because I really found myself enjoying taking care of women," she said. "Our specialty has a unique opportunity help bring a healthy new life into the world. We also have continuity with our patients and can care for them through all stages of their reproductive lives."
Dr. Russell will see patients of all ages and stages in life. She sees women interested in contraception, women of all ages for annual well woman examinations, and women who have problems with their periods, menstrual cycle, or reproductive system. Dr. Russell enjoys caring for women from the early stages of their pregnancies through the postpartum period.
"Prevention is key to a healthy life, so counseling patients on healthy choices and keeping them up to date with screening is important," she said. "I am very patient with those I'm caring for and strive to make all the medical jargon easy to understand. I always want to be approachable to them for any questions they may have."
To learn more about Buckeye OB/GYN or to schedule an appointment with women's health physician, Dr. Sarah Russell, visit: http://www.buckeyeobgynandwomenshealth.com.
Dr. Russell is an active member of the medical staff of OhioHealth Grant Medical Center. OhioHealth Grant Medical Center provides the latest in labor and delivery technology in a comfortable patient-friendly environment and a maternity team that devotes trusted one-on-one attention to each woman. With the da Vinci® Surgical System, our expert surgeons can provide the most advanced minimally invasive gynecologic surgery, with the benefits of less pain and faster recovery time.
About OhioHealth
OhioHealth is a nationally recognized, not-for-profit, charitable, healthcare organization with Methodist roots. Based in Columbus, Ohio, OhioHealth is currently recognized as one of the top five large health systems in America by Truven Health Analytics. It is also recognized by FORTUNE Magazine as one of the "100 Best Companies to Work For" and has been for eight years in a row, 2007-2014.
Serving its communities since 1891, it is a family of 28,000 associates, physicians and volunteers, and a network of 12 member hospitals, 25+ health and surgery centers, hospice, home-health, medical equipment and other health services spanning a 40-county area.