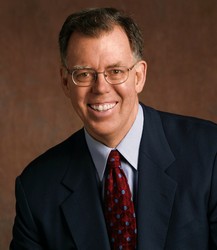 If you can control hunger using the foods you like to eat, then consuming fewer calories is easy on a lifetime basis.
New York, NY (PRWEB) January 12, 2009
Dr. Barry Sears is a research scientist more at ease writing articles for scientific journals than books for the public, yet USA Today listed his 1995 bestseller, The Zone, in the Top 150 Best Selling Books of the Past 15 Years. His success still strikes Dr. Sears as amazing since the first publication run for The Zone was only 5,000 books because it was written primarily for cardiologists and has a heavy emphasis on science.
The USA Today 15-year list includes Dr. Sears' The Zone, along with J.K. Rowling's Harry Potter and the Sorcerer's Stone, Dan Brown's The Da Vinci Code, George Orwell's 1984, J.D. Salinger's Catcher in the Rye and C.S. Lewis' The Chronicles of Narnia, among others.
USA Today's list of 150 top selling books since the newspaper started its Best Sellers List 15 years ago can be seen online at http://www.tinyurl.com/65n5ok.
Dr. Sears continues to write about such scientific subjects as inflammation, hormonal modulation, and altering genetic expression. Yet, he has sold more than five million books in the past 13 years. The Zone accounted for 2 million of those books, while his other books have sold another 3 million copies.
In his latest book, Toxic Fat, he explores why "We should think of obesity like a cancer and that common advice to eat less and exercise more will not work for people who are genetically predisposed to develop obesity."
Dr. Sears' far-ranging entrepreneurial activities began far before he published his hit book. For example, he established in the early 1980s one of the first biotechnology companies for the development of new intravenous technologies to deliver cancer drugs. The research for Dr. Sears' various books resulted in his starting the first company that developed high protein nutrition bars that was eventually sold to Abbott Labs as while as the first company to manufacture pharmaceutical grade fish oil.
Now, based on his research for Toxic Fat, he realized that the next potential growth area was the development of a new generation of food products that could provide similar hunger control benefits similar to those people had undergone gastric bypass surgery.
He founded MedWell Foods to combine his knowledge of hormonal control theory with the invention of new breakthrough food technology to help people lose weight. He says MedWell creates foods people like to eat, such as breads, pastas, snacks, cookies and more, while providing a unique solution to appetite suppression by controlling the natural expression of hormones that control hunger.
As Dr. Sears describes in Toxic Fat, America's increasingly pro-inflammatory diet has caused activation of a "fat trap" in genetically predisposed individuals, while also increasing hunger by changing levels of hormones in the brain that now override normal appetite suppression.
Dr. Sears says being overweight or obese isn't due to a lack of willpower. He notes the problem lies in people's genes and the uncoupling of appetite control mechanisms in the brain. "In other words, if you are fat, it's not your fault," he adds.
"To lose weight and keep it off requires rebalancing of hormonal signals in the brain, the gut, and the blood. We need to look at foods we eat as powerful drugs that can alter hormonal responses for better or worse. For most Americans, it has been for the worse."
Dr. Sears realizes that changing one's religion is easier than changing one's diet. That's why he founded MedWell Foods, online at http://www.medwell123.com, to address this problem by providing the foods that people like to eat but now generating totally different hormonal responses that result in improved appetite control instead of the usual fat accumulation. "Since people are eating the foods they like to eat, it is likely they will continue to eat MedWell like this on a lifetime basis with the least amount effort to control hunger."
Dr. Sears says, "If you can control hunger using the foods you like to eat, then consuming fewer calories is easy on a lifetime basis." He may be an unlikely author, but his continued research and his development of companies like MedWell might help to change the world.
###