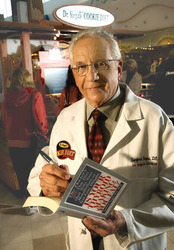 Our Galleria Mall kiosk will be our largest and most elaborate to date. Given the enormous popularity of Dr. Siegal's® COOKIE DIET™ in Dade and Broward counties, we decided to make our Fort Lauderdale location a true showcase for a system of weight loss that has helped more than a half million people, many of whom live in South Florida
Miami, FL (PRWEB) January 28, 2008
Dr. Siegal's Direct Nutritionals, LLC, the global distributor of Dr. Siegal's® COOKIE DIET™ hunger-controlling foods and operator of the CookieDietOnline.com web site, today announced that it will open its sixth Dr. Siegal's® COOKIE DIET™ kiosk on February 12th at The Galleria, an upscale shopping mall in Fort Lauderdale, Florida. This is the company's third South Florida retail location. As with his Boca Raton Town Center, Dadeland Mall, and other kiosks located in shopping centers around the country, the Galleria location will operate entirely separate and independent of Dr. Siegal's medical practice, Siegal Medical Group, which has clinics in Kendall, Miami Lakes and Davie.
Dr. Sanford Siegal, who created his famous six-cookies-a-day weight loss system in Miami more than thirty years ago, will attend a grand opening celebration at the Galleria kiosk from 2 to 4pm on Saturday, February 16th. He will also attend a grand opening event at his Dadeland Mall kiosk in Kendall on Saturday, February 2nd, from 1 to 3pm.
"I'm looking forward to attending our Dadeland and Galleria grand openings this month. We've helped hundreds of thousands of people in Dade and Broward since we began practicing here fifty years ago. It will be great to see former and current patients again, and to meet our retail customers who've recently begun buying Dr. Siegal's® COOKIE DIET™ products on our CookieDietOnline.com web site," said Dr. Siegal.
Dr. Siegal's program features his hunger-suppressing cookies, shakes and soup which contain his proprietary mixture of particular amino acids, the basic building blocks of food proteins. He conceived the idea of a cookie-based diet in the early 1970's while researching his book on natural food substances that control hunger without drugs. In 1975, after several years of experimentation, he perfected his secret recipe and baked it into a cookie. Acceptance by his patients was immediate and soon Dr. Siegal's® COOKIE DIET™ was the exclusive approach to weight loss at Siegal Medical Group. More than 200 other doctors have used Dr. Siegal's® COOKIE DIET™ hunger-controlling cookies, shakes and soup in their own practices.
Recently, others have tried to capitalize on Dr. Siegal's reputation, name and successful weight loss methods by introducing snack foods that claim to be similar to his hunger-suppressing foods but which, in fact, don't contain his proprietary hunger-controlling amino acid protein formula. Dr. Siegal, who personally mixes every batch of his secret protein blend with his own hands in his private bakery in Miami, has vigorously and successfully defended his intellectual property and legacy.
"Our Galleria Mall kiosk will be our largest and most elaborate to date. Given the enormous popularity of Dr. Siegal's® COOKIE DIET™ in Dade and Broward counties, we decided to make our Fort Lauderdale location a true showcase for a system of weight loss that has helped more than a half million people, many of whom live in South Florida," said Matthew Siegal, president and CEO of Dr. Siegal's Direct Nutritionals, LLC.
Dr. Siegal is frequently in the news, particularly when he travels the country attending grand opening events at his retail locations. While in Phoenix earlier this month to attend the opening of his second location there he was a guest on the popular morning show Sonoran Living on ABC 15.
Dr. Siegal's® COOKIE DIET™ hunger-controlling foods and nutritional supplements are available online at http://www.CookieDietOnline.com; by phone 24/7 at 866-464-5595 toll-free; and from select doctors, drug stores and retailers. They're also available at Dr. Siegal's® COOKIE DIET™ kiosks in Paradise Valley Mall and Chandler Fashion Center in Phoenix, AZ; Boca Raton Town Center Mall in Boca Raton, FL; Dadeland Mall in Miami, FL; and Moorestown Mall near the Philadelphia suburb of Cherry Hill, NJ.
###