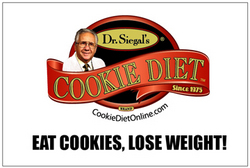 Dr. Siegal's® COOKIE DIET™ has a tremendous following in Arizona, particularly in Phoenix and Tucson. We're thrilled to be opening at Scottsdale Fashion Square so that Scottsdale residents can have the same convenience that our Paradise Valley Mall and Chandler Mall customers enjoy
Scottsdale, AZ (PRWEB) March 3, 2008
Dr. Siegal's Direct Nutritionals, LLC, the worldwide distributor of Dr. Siegal's® COOKIE DIET™ weight loss system and hunger-controlling foods and the operator of the CookieDietOnline.com online store, today announced that it will open its third Arizona retail location at the upscale Scottsdale Fashion Square shopping center on Monday, March 17th. Renowned physician, author and weight loss expert Sanford Siegal, D.O., M.D., who created his popular six-cookies-a-day diet in 1975, will attend a grand opening event in the Palm Court section of the mall from 2-4pm on Saturday, March 29th.
"Dr. Siegal's® COOKIE DIET™ has a tremendous following in Arizona, particularly in Phoenix and Tucson. We're thrilled to be opening at Scottsdale Fashion Square so that Scottsdale residents can have the same convenience that our Paradise Valley Mall and Chandler Mall customers enjoy," said Matthew Siegal, President and CEO of Dr. Siegal's Direct Nutritionals, LLC.
The Dr. Siegal's® COOKIE DIET™ retail stores don't provide medical services and therefore don't charge any type of fees. Dr. Siegal's hunger-controlling foods are compatible with any reduced-calorie diet and customers are encouraged to used them under their own doctor's supervision if they intend to go on a diet.
Dr. Sanford Siegal, a Miami-based obesity expert and practicing physician affectionately known to his patients and retail customers as the Cookie Doctor™, conceived the idea of a cookie-based diet in the early 1970's while doing research for his book on food substances that control hunger. Believing that hunger is the leading cause of diet failures, Dr. Siegal developed a secret blend of amino acid food proteins that provides unusually effective hunger suppression per calorie. He baked his proprietary protein blend into a cookie and found that it enabled his patients to adhere to the reduced-calorie diet that he prescribes and monitors. He later developed meal replacement diet shakes and diet soup with the same hunger-suppressing quality. More than 500,000 people have since used the products, and hundreds of other doctors have provided them to their own patients. At 79, Dr. Siegal personally mixes every batch of his secret protein blend.
In his own practice, Siegal Medical Group, Dr. Siegal's patients are instructed to eat six cookies a day to control hunger. No other food is eaten during the day. In the evening, his patients eat a reasonable dinner consisting of six ounces of chicken, fish, or turkey and a cup of green vegetables. His typical patient who follows his instructions exactly loses about fifteen pounds per month. Dr. Siegal strongly encourages anyone who intends to follow any weight loss diet to do so under a doctor's supervision.
"The Dr. Siegal's® COOKIE DIET™ program, in which the dieter eats six cookies a day and a reasonable dinner at night, has been the exclusive approach to weight loss at Siegal Medical Group for thirty-three years and has helped hundreds of thousands of patients lose weight. However, only your own doctor, who knows your medical history, can tell you whether a particular diet is right for you," said Dr. Siegal.
Dr. Siegal discourages those who are serious about losing weight safely from relying on diet center franchise doctors and nurses to monitor their diets.
"Obesity poses serious health risks. You wouldn't rely on some franchise mystery doctor to treat you for other serious conditions so why would you let him monitor your weight loss?," said Dr. Siegal.
Dr. Siegal's® COOKIE DIET™ hunger-controlling foods and nutritional supplements are available online at http://www.CookieDietOnline.com; by phone 24/7 at 866-464-5595 toll-free; and from select doctors, drug stores and retailers. They're also available at Dr. Siegal's® COOKIE DIET™ kiosks in Paradise Valley Mall and Chandler Fashion Center in Phoenix, AZ; Boca Raton Town Center Mall in Boca Raton, FL; Dadeland Mall in Miami, FL; The Galleria Mall in Fort Lauderdale, FL; and Moorestown Mall near the Philadelphia suburb of Cherry Hill, NJ.
# # #