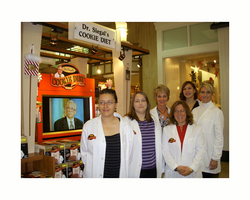 Hunger wrecks diet. By controlling hunger, my Dr. Siegal's® COOKIE DIET™ foods enable people to faithfully follow whatever diet their own doctor recommends and supervises
Phoenix, AZ (PRWEB) December 10, 2007
Dr. Siegal's® COOKIE DIET™, the original cookie-based weight loss system and hunger-suppressing foods created 33 years ago by prominent Miami physician Dr. Sanford Siegal, has opened a retail kiosk at Paradise Valley Mall in Phoenix, Arizona. The kiosk sells Dr. Siegal's® COOKIE DIET™ brand diet cookies and nutritional supplements. The cookies are available in five flavors: chocolate, oatmeal raisin, blueberry, coconut and banana. Dr. Siegal's® COOKIE DIET™ brand shakes and soup with the same hunger-controlling properties will soon be available there. The foods contain no drugs and are available without a prescription. No consultation, membership or other fees are required to purchase products.
Dr. Siegal developed his cookie-based diet in 1975 in order to control his patients' hunger and thus enable them to stick to a reduced-calorie diet. His products have been used by more than a half million people, most of whom have been patients of Dr. Siegal or of the approximately 200 other doctors he has supplied. Dr. Siegal and his Dr. Siegal's® COOKIE DIET™ weight loss system and foods have been profiled by Fox News Channel, CNN, Woman's World, All*You and many other media outlets.
The Dr. Siegal's® COOKIE DIET™ brand diet cookies, shakes and soup contain the Miami physician's secret blend of hunger-suppressing amino acid food proteins. They're made in Dr. Siegal's private bakery where he personally mixes every batch of his proprietary protein formula with his own hands.
"Hunger wrecks diet. By controlling hunger, my Dr. Siegal's® COOKIE DIET™ foods enable people to faithfully follow whatever diet their own doctor recommends and supervises," said Dr. Siegal.
In his own practice, Dr. Siegal's patients eat six cookies during the day to control hunger and then a reasonable dinner at night. Most patients who follow his instructions exactly lose 12 to 15 lbs. per month. Those who buy his products online or in stores are directed to consult their own doctor before starting any kind of reduced-calorie diet.
"As a result of our local advertising, including our spots on KISS 104 (KZZP), many people in Phoenix buy Dr. Siegal's® COOKIE DIET™ products on our CookieDietOnline.com web site. We've opened a retail location in Phoenix as a convenience to those customers and to save them the shipping costs," said Matthew Siegal, President and CEO of Dr. Siegal's Direct Nutritionals, LLC, which distributes Dr. Siegal's products worldwide.
The Dr. Siegal's® COOKIE DIET™ kiosk in Phoenix is located at Paradise Valley Mall, 4568 East Cactus Road. Products can also be ordered by phone 24/7 at 866-464-5595 and online at http://www.CookieDietOnline.com.
# # #