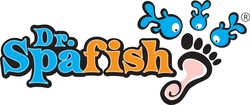 Our fish are sourced from breeders with a constant healthy stock of Garra Rufa fish. Dr Spafish takes pride in sourcing only the best of these very special fish and only provides true breed Garra Rufa.
(PRWeb UK) February 14, 2011
Fish is probably not the first thing that comes to mind when someone fancies their toes sucked but the walk-in pedicure treatment, which involves live fish nibbling, kissing and sucking away the dead skin on feet, has really caught the UK's imagination.
The Garra Rufa or 'Doctor Fish' work through the build up of hard skin on the heels and soles of the feet getting rid of any dry skin, but leaving the healthy flesh untouched. Originating in Turkey over 400 years ago, this unusual treatment is the latest craze to hit the beauty world and has been extremely popular with shoppers to date. The toothless spa-fish are seen as an alternative to pumice stones and foot scrubs, leaving the feet feeling soft and smooth.
Bradly Carter, managing director of Dr. Spa Fish said: "It is a fintastic way for adults and children alike to relax and have fun, why not come along and enjoy the experience as a family! Dr Spafish now has stores in Norwich, Bristol, Basildon, Luton, Hemel Hemstead, Crawley, Maidstone and Liverpool, with even more planned to open! Go to our website http://www.drspafish.com to find out details of where we will be opening next."
The 'natural pedicure' gets rid of hard or flaky skin on the feet; effectively assists with treating psoriasis and eczema; improves blood circulation in the feet and also relaxes the body to reduce fatigue."
The Garra Rufa tanks are specially fitted with UV light filters and the water is filtered through Dr Spa Fish's unique eleven stage filtration system, which cleanses the water between each treatment and ensures it is completely germ free, without any harm to the fish.
Bradly continues: "Our fish are sourced from breeders with a constant healthy stock of Garra Rufa fish. Dr Spafish takes pride in sourcing only the best of these very special fish and only provides true breed Garra Rufa."
Dr Spafish can also be found on Facebook, YouTube or follow us on Twitter @DrSpaFish
Press information:
Harriet Thorpe
Telephone: 01603 717416/07871663686
Email: harriet(at)pinstripepr(dot)co(dot)uk
Anna Mills
Telephone: 01603 717416/07786086850
Email: anna(at)pinstripepr(dot)co(dot)uk
###