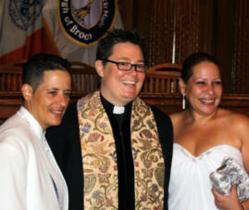 We are the only thing we have, the only thing we are, and the only thing we want to be.
Brooklyn, NY (PRWEB) August 02, 2011
New York became the sixth state to legalize same-sex marriage when Gov. Andrew Cuomo on June 24 penned his name on to the bill. 824 lucky couples won a lottery to be the first to say "I do" Sunday, July 24. Dr. Rothstein, who lives and practices nearby since 1976 decided to share in the happiness, and documented for posterity the anticipation and joy at the wedding of Barbara Pilgremto Geraldine Whitsett, and Maira to Marie Garcia.
Dr. Rothstein is a certified Brooklyn Community Access TV producer and his web site and films attest to his many talents including an innate disposition to immediately disarm and befriend people upon meeting them.
Having lived and worked in Brooklyn Heights since 1976 his pleasure and participation in the life of this community makes this neck of the woods his "hood".
Not on the set more than 10 minutes, he hied himself to the front of the line and there set eyes upon Barbara and Geraldine accompanied by their witness and dearest confidant Barbara. They took his heart in an instant as they professed the love they had for one another. Nothing unusual except for the fact that one of them was 81 and the other 76, and partners for 48 years. Moreover, they had been first on the line since 5 am that morning.
Their story would have ended woefully at the clerk's desk when Barbara admitted she had forgotten identification. The kind clerk, beside herself, and supporting staff were determined to let nothing mar their very first couples greatest day of joy and with citywide resources at their disposal produced the missing document to heartfelt applause of all those surrounding.
Supreme Court Judge Hon. Robin Garson married them -- her first-ever same sex marriage--and with tears in her eyes, and gushing emotion put a blessing on their heads.
Maira and Marie Garcia were not the first in line, but to Dr. Rothstein they were beyond any doubt dressed to show how much this day meant to each other. Spellbound by their sartorial elegance, he could hardly contain his joy when they invited him to accompany them and their family to the courtroom of the Municipal building where they were married by an elated/ minister, proud to officiate at her first legal same-sex nuptial.
View Dr. Ted's footage of Maira and Marie's wedding ceremony.
# # #