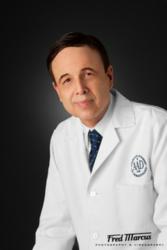 [Skin cancer] is a preventable disease. We need to get the word out about how important it is to identify the warning signs.
New York, NY (PRWEB) June 20, 2013
During Men's Health Month, Dr. Zizmor and other top dermatologists are urging patients to take the proper precautions to prevent and detect skin cancer by encouraging frequent examinations of suspicious moles and other skin issues that may be a prelude to cancer or other related problems. Dr. Zizmor and other doctors are sharing valuable information and tips about how to prevent skin cancer throughout Men's Health Month, which is celebrated across the country with screenings, health fairs, media appearances, and other health education and outreach activities.
Approximately one in five Americans will be diagnosed with skin cancer in their lifetime. "This is a preventable disease," says Dr. Zizmor, "we just need to get the word out there about how important it is to identify the warning signs."
The American Academy of Dermatology (AAD) has published helpful guidelines highlighting the ABCDEs of Melanoma and urging individuals who may be at risk to schedule an appointment with a board-certified dermatologist if any moles exhibit these signs:
A – Asymmetry: One half of the spot is unlike the other half.
B – Border: The spot has an irregular, scalloped or poorly defined border.
C – Color: The spot has varying colors from one area to the next, such as shades of tan, brown, or black, or with areas of white, red, or blue.
D – Diameter: Melanomas are usually greater than 6mm, or about the size of a pencil eraser when they are diagnosed, but they can be smaller.
E – Evolving: A mole or spot on your skin that looks different from the rest or is changing in size, shape, or color.
"It's quick and easy to examine your own skin," says Dr. Zizmor, "raise the arms and examine the right and left sides of the body; bend your elbows and look carefully at your forearms, upper underarms; inspect the back of your legs, spaces between your toes and feet and ask a friend or partner to examine your back, buttocks, neck and scalp to make sure you are not missing anything."
About Dr. Zizmor
Dr. Zizmor is a leading expert in the fields of skincare and dermatology and the best-selling author of Dr. Zizmor's Skin Care Book and Dr. Zizmor's Guide To Clearer Skin. A frequent guest on television and radio, Dr. Zizmor has been featured in dozens of newspapers and magazines including, The New Yorker, New York Post, Daily News, New York Newsday, The Wall Street Journal and The New York Times.
Dr. Zizmor offers the most advanced dermatological treatments available, from non-surgical face lift procedures to skin tightening laser therapy and injections and fillers that help patients enjoy younger looking skin, such as Restylane, Juvederm, and Botox.