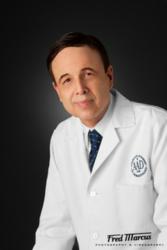 Psoriasis is the most common autoimmune disease in the U.S., affecting as many as 7.5 million Americans.
New York, NY (PRWEB) August 31, 2012
More than 7.5 million Americans have psoriasis, according to the American Academy of Dermatology (AAD). While many think of psoriasis as simply chronic dry skin, it's actually more complicated than that. "In psoriasis, skin cells only take days to grow, whereas in normal skin, this process takes approximately four weeks," says Dr. Jonathan Zizmor, a top New York City dermatologist. "The extra skin cells build up on the skin in thick, silvery patches. The scales can become red and irritated. The most common type of psoriasis is plaque psoriasis and is often seen on elbows, knees, hands and feet."
The AAD says that plaque psoriasis affects 80 percent of those with the condition. The cause of psoriasis is likely an immune system disorder that triggers T-cells to attack healthy skin cells, according to Dr. Zizmor. "Because the body mistakenly believes it is fighting an infection, more healthy skin cells and white blood cells are produced. The patches of skin flake off when the skin cells die," continued Dr. Zizmor.
There is also evidence that people in their 40s with mild psoriasis have a 20 percent increased risk of suffering a heart attack.
The two main types of treatment can be categorized into biologic and phototherapy. Biologics treat mild to severe psoriasis and are made from human or animal proteins. Several are approved for use by the Food and Drug Association, including Adalimumbab, Alefacept, Etanercept, Infliximab and Ustekinumab.
"The reason we use biologics to treat milder forms of psoriasis, is that many of these block or lower the amount of TNF-alpha in the body which is a chemical that causes the immune system to overreact, causing inflammation which leads to psoriatic arthritis," says Dr. Zizmor. Others block T-cell activation, which are white blood cells that fight infection but also are produced in high quantities in patients with psoriasis.
The second category of treatment is the use of ultraviolet light, or phototherapy. This is used when the skin does not heal following topical treatment application as state above. "We use phototherapy to expose the skin to ultraviolet light for a certain time period," says Dr. Zizmor. The types include ultraviolet B phototherapy (UVB), or Psoralen plus ultraviolet A therapy (PUVA). Both cause reactions in skin cells that lessen the number of rapidly-growing skin cells, and kill T-cells. This results in clearer skin and less redness and itchiness.
Research indicates that topical agents are safe when used according to the recommendations. Traditional immunosuppressive agents such as cyclosporine and methotrexate, or oral retinoids such as acitretin may also be appropriate in some patients. Moreover, advances in biologic, phototherapy, topical agents and anti-inflammatories continue at a rapid pace and can lead to diminishing the symptoms of psoriasis.