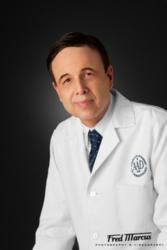 The good news is that spider veins and varicose veins are treatable and there are a variety of procedures that can help you look and feel better about your legs – and yourself!
New York, New York (PRWEB) August 31, 2012
Despite the heat of the summer, millions of Americans suffering from spider veins or varicose veins are dreading wearing shorts or a swimsuit. There are a number of successful new treatments used by some of the country's top skin care experts to treat these conditions and now is the time to consult your dermatologist to learn about new treatments for removal of spider veins and varicose veins.
"Spider veins are typically found on the legs and are tiny blood vessels that can increase in size," says Dr. Jonathan Zizmor, M.D., a prominent New York City dermatologist. "People at risk of developing spider veins share common risk factors. They are women who are usually past 40 – and those who have jobs where they stand for long periods of time can also be affected." Dr. Zizmor says that varicose veins tend to be larger and can be felt above the surface of the skin. The good news is that there are several new medical advances that can help women over-come spider and varicose veins.
For spider vein treatment, Sclerotherapy is a popular and effective procedure, that involves treating spider veins via very thin needles that contain a sclerosing solution which cause the blood vessel to swell, stick to other vessels and form blood clots, eventually fading until it is barely noticeable.
One method for varicose vein treatment is a thermal treatment called radiofrequency, during which energy is transformed into heat and shrinks the vein. Laser therapy is another thermal procedure used to treat varicose veins. During this procedure, laser fibers are inserted into the vein via a needle and thread. Varicose veins often consist of a core "trunk" and during laser therapy the trunk is targeted for shrinkage. During these procedures, the vein is closed, and reabsorption of the vein occurs over several months. Thermal ablation causes less pain and discomfort and reduces recovery time compared with surgery. Both thermal techniques are safe, common and effective.
Advances in ultrasound have resulted in the imaging technology's use in preoperative diagnosis, postoperative surveillance and during many procedures themselves. Thermal and chemical (sclerotherapy) ablation techniques are performed in greater numbers now than are surgical procedures in the U.S., according to 2009 data from the Millenium Research Group. Foam sclerosants as a chemical technique are recent advances that have also proved effective. For this treatment, foam is used to fill a vein and remain in place unless a muscle is contracted. Together, these advances have resulted in fewer surgical procedures used to treat spider and varicose veins.
"The good news is that spider veins and varicose veins are treatable," says Dr. Zizmor, "and there are a variety of procedures that can help you look and feel better about your legs – and yourself!"