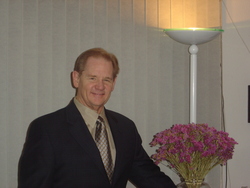 Most of the anxiety usually associated with dentistry concerns the fear of pain and the loss of control patients feel at being subjected to painful experiences
Sacramento, CA (PRWEB) October 27, 2007
Dr. Steven J. Brazis, D.D.S., is proud to announce the launch of his brand of dental care: No Fear Dentistry. In practice for more than 30 years in the Sacramento, California area, Dr. Brazis has developed his treatment around the concept of making people comfortable and relaxed during dental procedures without the use of drugs.
"Most of the anxiety usually associated with dentistry concerns the fear of pain and the loss of control patients feel at being subjected to painful experiences," says Dr. Brazis. "By giving people back control over their own dental care experience, their anxieties are greatly diminished and often disappear completely."
In addition to Dr. Brazis' innovative approach to dental care in his own practice, he also addresses dental health issues on his website, http://www.toothhaven.com.
"Many people are looking for answers about cosmetic dentistry, implants, TMJD and how to ensure good dental health for their children," says Dr. Brazis. "My website provides information about various procedures, plus I will be happy to answer any questions visitors may have about dental care."
Some of the procedures outlined at Toothhaven.com include:

Tooth Whitening
Sealants
Crowns, Bridges & Dentures
Emergency Care
Implant Restorations
Root Canal Therapy
Dr. Brazis encourages visitors to his website. People can leave private questions or comments for Dr. Brazis, and even request appointments. There is also a public forum section for open discussion and questions for both the general public and dental professionals. Additionally, there is a section where Dr. Brazis and select professionals have posted articles of concern in contemporary dentistry.
Dr. Brazis' dental care practice is located at 5030 J Street, Suite 302, in Sacramento, California, 95819. The phone number is 916-731-5151 or he can be reached at sjbrazis(at)gmail.com. In addition, the practice can also be reached through the website at http://www.toothhaven.com. Dr. Brazis and his staff of hygienists and registered dental assistants welcome new patients and interested visitors.
###