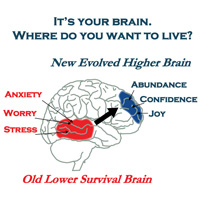 I have a proven life changing platform being offered to skilled Life Coaching and many other professionals like Wellness Coaches, Social Workers, Chiropractors, Psychologists and Healing Arts Practitioners
Chicago, IL (PRWEB) April 19, 2012
The expertise of Dr. Michael Cotton of AWAKEN Higher Brain Living™ and his innovative "Higher Brain Living®" techniques combined with the high skill sets of Life Coaches is creating a story that defines the essence of the phrase "Win / Win". "I have a proven life changing platform being offered to skilled Life Coaching and many other professionals like Wellness Coaches, Social Workers, Chiropractors, Psychologists and Healing Arts Practitioners" said Dr. Cotton, "and combining both forces creates a winning scenario for myself, my partners and most importantly their clients."
Dr. Cotton is based in the state of Wisconsin and is the Founder of "AWAKEN Higher Brain Living™ Centers" (http://www.higherbrainliving.com/trainingCHI.php) which specializes in techniques dedicated toward shifting individuals from "lower brain surviving to higher brain thriving" with a long term goal of helping clients to bring the full effect of personal empowerment into their lives. "There are three tier levels to my concept," said Dr. Cotton, "and involves the following: 1) Clearing stress 2) Creating an extraordinary life and 3) Finding authenticity and meaning in our lives. The goal is to help EVERYONE to relive the moment in their personal life which would be cherished as the best day ever. Relive that moment and become empowered is the focus of this agenda that brings the positive changes we all need in our life during these challenging times."
The focus of the business expansion is geared toward finding like minded Professionals dedicated toward:
1) "Supercharging" the lives of others
2) Taking complete control of their professional lives
3) Having the internal drive and confidence toward generating an annual income in excess of $300,000
"I have a turnkey business opportunity in place for qualified professionals," said Dr. Cotton, "and for those that qualify the future for the rest of the year and beyond is very bright offering a leading edge technology in demand by humanity."
The event in Chicago will outline the steps involved for becoming a Higher Brain Living® Partner on April 26:
Thursday, April 26
7:00pm – 9:00pm
AWAKEN Higher Brain Living Center
Fine Arts Building
410 South Michigan Avenue
Suite 414
Chicago, IL 60605
Dr. Cotton's presentation and demonstration is complimentary if registered before April 22 then cost is $95. For more information and registration:
http://www.higherbrainliving.com/trainingCHI.php
AWAKEN Higher Brain Living™ promotes a movement of energy from the lower survival brain to the higher part of the brain so a person can thrive in all areas of their life. Created by Dr. Michael Cotton, Higher Brain Living® signals a major physiological shift in the transformation of humanity. A one-of-a-kind technique that frees fear-based lower brains, Higher Brain Living® offers clients the chance to create an extraordinary new life, to thrive, to let go of stress and overwhelm, to experience joy, confidence, and passion and to grow and evolve every day. Each client is provided a map and tools to be able to execute higher brain physiology which allows a new way to be, and a new way to do in the world. For more information go to http://www.higherbrainliving.com/