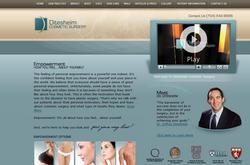 My practice is built around a simple philosophy of personal empowerment - the confident feeling that you have about yourself and your place in the world.
Charlotte, NC (PRWEB) June 23, 2008
Dr. Jeffrey Ditesheim a leading board-certified plastic surgeon, is pleased to announce the release of his new website which offers in-depth information on the surgical and non-surgical procedures available to his Charlotte plastic surgery patients. In addition to the vast amount of written content on every procedure, patients can look at a number of pre and post-operative photographs, and even view videos of patient interviews and testimony to Dr. Ditesheim's unique approach.
Transforming the website into a more user friendly structure was extremely important to Dr. Ditesheim who has a strong emphasis on an individualized approach to each patient. He explains "My practice is built around a simple philosophy of personal empowerment - the confident feeling that you have about yourself and your place in the world." He adds, " Many times, people don't have a good sense of empowerment because of the way they look. That's why we talk with our patients about their personal motivation, their hopes and fears about cosmetic surgery and what type of results they desire. The barometer of success does not lie in the completion of the surgery, but in the satisfaction of achieving my patients' goals."
While the site design and framework evokes an aesthetic allure and appeal, it serves to assist women and men considering cosmetic surgery in their decision-making process by providing a variety of mediums to deliver procedure information. Visitors to the site are introduced to the services offered by Diteshiem Cosmetic Surgery including detailed information about pre-operative considerations, what to expect during surgery, and post-operative instructions. The site also takes readers through descriptions of ideal candidates for each procedure, a photo gallery showing actual patient results, and an extensive video library featuring testimony of several Ditesheim Cosmetic Surgery patients.
With over 70 clinically reviewed pages of content, the new site is a leading resource for Charlotte breast augmentation, body contouring, and facial cosmetic surgery patients. You can learn more about the cosmetic surgery options and latest practice news by visiting the new Ditesheim Cosmetic Surgery website.
About Ditesheim Cosmetic Surgery:
Located in the heart of Charlotte, North Carolina, Ditesheim Cosmetic Surgery employs a team of individuals who work tirelessly to customize safe surgical plans with predictable recoveries to assure the best patient experience. Led by board certified plastic surgeon Jeffrey Ditesheim MD, the practice offers comprehensive plastic surgery procedures for the breast, body, face, and skin.
Dr. Jeffrey Ditesheim enlisted the services of plastic surgery marketing firm Rosemont Media in San Diego, CA to design and develop the content for the new site. For more information on the product and service offerings by Rosemont Media, visit their site or call (800) 491-8623.
###