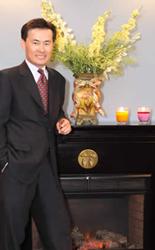 Dr. Kim has spoken globally on the topic of periodontal disease treatment and management and is passionate about serving the community.
Chino Hills, CA (PRWEB) December 14, 2018
Jin Y. Kim, a leading board-certified periodontist who has dedicated his career to learning and contributing to the latest in periodontal care welcomes people with periodontal disease in Chino Hills, CA, to take advantage of LANAP®, the FDA-cleared laser gum therapy treatment he offers. LANAP provides comfortable, proven tissue regeneration and other solutions for the estimated 48 percent of people who have some form of gum disease.
The LANAP technique relies on the precision of high-tech dental lasers to stop the spread of bacteria in the periodontal pockets, effectively providing an alternative to more invasive osseous surgery requiring the use of scalpels and sutures. The laser used during LANAP gum therapy effectively destroys bacteria colonies in between the teeth and gums, as well as remove destroyed soft tissues. However, the laser does not harm existing healthy tissues. When used as a part of a comprehensive, personalized treatment program prescribed by a periodontist, LANAP laser gum therapy helps healthy gums reattach to the surrounding teeth. After one appointment of LANAP treatment, most patients notice a change in their moderate to severe periodontal disease.
Four of the biggest advantages to the LANAP protocol are the procedure's treatment speed, patient comfort, lowered patient downtime, and long-term success. When patients work with Dr. Kim to properly address their gum disease issues with at-home and in-office intervention and preventive steps, they can manage the spread of the condition. Without following routine maintenance programs, patients in Chino Hills, CA, with periodontal disease may suffer from pain, tooth loss, and systemic health issues. In fact, untreated and unmanaged gum disease has been linked to systemic diagnoses including some cancers.
Dr. Kim has spoken globally on the topic of periodontal disease treatment and management and is passionate about serving the community. He has used his extensive skills and reputation to provide guidance to five dental manufacturing companies and has been widely published. Additionally, Dr. Kim has leveraged his background to translate a textbook from English to Korean for future use in and out of the classroom.
Chino Hills, CA residents with the warning signs of moderate to severe gum disease including constant bad breath, bleeding gums, sore gums, red gums, gum recession, and loose teeth are encouraged to self-refer to periodontist Dr. Kim. Appointments are available at the Diamond Bar, CA, location by calling 909-860-9222 and the office in West Garden Grove, CA, by calling 714-898-8757.
About the Periodontist
Dr. Jin Y. Kim is a periodontist dedicated to providing personalized dental care in Diamond Bar and Garden Grove, CA. Dr. Kim attended the University of Sydney Faculty of Dentistry before furthering his education with an advanced degree in pathology from the Medical School of the same University. Dr. Kim completed a periodontics and implant surgery residency at UCLA School of Dentistry and is board-certified by the American Board of Periodontology and the American Board of Oral Implantology/Implant Dentistry. He is a past president of the Western Society of Periodontology and was also inducted to be a Fellow of the prestigious American College of Dentists and earned Fellowships in the International Congress of Oral Implantologists and the American Academy of Implant Dentistry. Dr. Kim lectures and holds faculty positions at a number of universities including UCLA School of Dentistry and abroad. He has spoken at no less than 36 different countries across the globe as well as national and international academic and clinical associations and universities including the International Association of Dental Research, American Academy of Periodontology and Academy of Osseointegration. To learn more about Dr. Jin Kim and the services he offers, visit his website at http://www.drjinkim.com or call 909-860-9222 for the Diamond Bar location or 714-898-8757 for the West Garden Grove location to schedule an appointment.