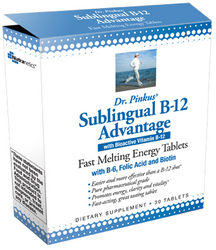 "We've combined the right form of Vitamin B-12 with the proper potency to offer our customers a powerful, high quality natural energy source. Plus we made it an 'on-the-go' formula that worked for our customers' active lifestyles." Dr. Michael Pinkus
Portland, ME (PRWEB) December 1, 2009
Dr. Newton's Naturals, a leading provider of high quality nutritional supplements, announces the release of its Dr. Pinkus' Sublingual B-12 Advantage formula.
Optimizing energy production in the body, the formula harnesses pharmaceutical grade methylcobalamin - the most bio-available form of B-12 – in the convenience of a sublingual tablet that quickly melts under the tongue. The supplement's rapid absorption technology releases energy-boosting nutrients directly into the bloodstream. Developed using the same form and potency of a traditional B-12 shot, these advanced nutrition tablets contain 1,100 mcgs of Vitamin B-12, plus folic acid, Vitamin B-6, and biotin. In addition to recharging energy, the formula is scientifically balanced to help elevate mood and support cardiovascular, brain, and immune function.
The formula's creator, Dr. Michael Pinkus explains, "We've combined the right form of Vitamin B-12 with the proper potency to offer our customers a powerful, high quality natural energy source. It was equally important to us that we made an 'on-the-go' formula that worked for our customers' active lifestyles. Dr. Newton's Naturals customers are not just busy; they need an affordable, convenient energy boost with all the benefits of a Vitamin B-12 shot. We have accomplished that with Dr. Pinkus' Sublingual B-12 Advantage."
According to Dr. Pinkus, the more stressed a person is, the faster their body burns through essential B-12 vitamins. He elaborates, "When someone is tense, their system consumes B-12 at an alarming speed. And frankly, who isn't stressed – at least to some degree - today? Patients often tell me that they feel as if they are 'running on empty.' We addressed these widespread concerns in the lab and developed what I believe is the solution to a fatigue epidemic."
Chris Homer, President of Dr. Newton's Naturals, said, "Our collaboration with Dr. Pinkus began in 1994, with the launch of our CalMax™ brand. Since then, we have sold over 10 million cans of CalMax. We are expecting Dr. Pinkus' Sublingual B-12 Advantage to have the same broad appeal. The demand is certainly there. Plus, our customers are well informed. They know our brand. They also know we hold ourselves - and our formulas - to the highest standard. And of course, it goes both ways. We receive Dr. Newton's Naturals product testimonials every day, so we are aware and responsive to our customers' health concerns. They drive our business."
About Dr. Newton's Naturals
Founded in 1994, Dr. Newton's Naturals has become one of the leading multi-channel vitamin and nutritional supplement companies in the United States. Headquartered in Portland, Maine, the company also has a distribution center in Clearwater, Florida.
About Dr. Pinkus
Dr. Michael Pinkus is a national spokesperson for alternative health care. An author and guest on over 500 radio and TV talk shows, his patients include NFL, NBA and Olympic athletes. He has dedicated over a quarter of a century to researching several keys to health, and has developed some of the finest quality nutritional supplements on the market today.
To learn more about Dr. Pinkus' Sublingual B-12 Advantage formula, and the full line of Dr. Newton's Naturals products, please visit their website at http://www.drnewtons.com.
###