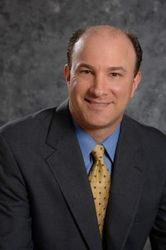 Dr. Richlin and his group bring the expertise to a community hospital which is normally only found in an academic center
Norwalk, CT (PRWEB) September 23, 2009
Fairfield county's largest infertility clinic - Reproductive Medicine Associates of Connecticut (RMACT) - announced today that Dr. Spencer S. Richlin, the practice's Surgical Director, has been appointed Chief of the Reproductive Endocrinology Division at Norwalk Hospital.
As Chief of Reproductive Endocrinology, Dr. Richlin will serve as the lead physician for reproductive endocrinology related topics, including: surgeries, OB/GYN staff consultations and Norwalk Hospital Clinic consultations. Dr. Richlin will also serve as the department's expert, by delivering lectures on important topics within the reproductive endocrinology field, attending departmental/interdepartmental meetings, and appearing on Norwalk Hospital in-house television and in the hospital's newsletter.
"Dr. Richlin and his group bring the expertise to a community hospital which is normally only found in an academic center," said Dr. Thomas Ayoub, Acting Chairman, Department of Obstetrics and Gynecology. "We are pleased to welcome him to this new role."
Dr. Richlin is board certified in obstetrics and gynecology and reproductive endocrinology. He received his medical degree from the University of Southern California's School of Medicine after receiving a Master's Degree in Applied Physiology from Chicago Medical School. He attended a post-baccalaureate pre-medical program at Bryn Mawr College in Bryn Mawr, PA. and earned his B.A. degree from the University of California at Berkeley. Dr. Richlin completed his internship and residency training at The Stamford Hospital affiliated with Columbia University School of Medicine, where he served as Chief Resident in Obstetrics and Gynecology. He completed his subspecialty fellowship training in reproductive endocrinology and infertility at Emory University School of Medicine in Atlanta, Georgia. A frequent lecturer, Dr. Richlin has published articles on gynecological and reproductive medicine topics in numerous prestigious medical journals.
About RMACT
Reproductive Medicine Associates of Connecticut (RMACT) specializes in the treatment of infertility. With fertility clinic and egg donation offices in Norwalk, Danbury and Greenwich, CT, and an affiliate office in Rye, NY, our team of Board-Certified Reproductive Endocrinologists offer a wide range of infertility treatments from basic fertility services including ovulation induction and intrauterine insemination (IUI) to the most advanced assisted reproductive technologies including in-Vitro Fertilization (IVF), Egg Donation and Preimplantation Genetic Diagnosis (PGD). The RMACT physician team includes, Dr. Mark P. Leondires, Dr. Spencer S. Richlin, Dr. Joshua M. Hurwitz, and Dr. Cynthia M. Murdock. All physicians are members of the American Society for Reproductive Medicine (ASRM), the Society for Assisted Reproductive Technology (SART) and the Fairfield County and Connecticut Medical Societies. RMACT's IVF laboratory is accredited by the College of American Pathologists (CAP), and CLIA; other accreditations include the Accreditation Association for Ambulatory Health Care (AAAHC) and the American Institute for Ultrasound in Medicine (AIUM). RMACT offers individualized fertility treatment plans in a patient-focused and supportive environment. Support services, such as, affordable IVF financing, psychological counseling, acupuncture and yoga are also available.
For more information visit, Reproductive Medicine Associates of CT or contact Leslie Kickham at RMACT, (917) 346-1002
###