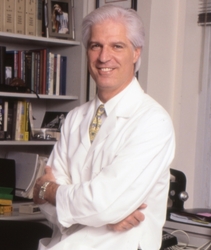 I am honored to be selected to be on the panel with all the other talented people from other industries and I feel it is time we have a venue to honor the models of the past and present for all their work and their influence on fashion, beauty and society
New York, NY (PRWEB) September 24, 2009
Cosmetic surgery innovator, Dr. Steven Victor, Founder of the LaserSculpt Network, the premier alternative to liposuction, has been appointed as a Blue Ribbon Panel Member for the 'Super Models Hall of Fame.' He will also serve as a judge for the upcoming event which will be a two-hour tribute to the Super Models of the past six decades and will be produced and directed by seven time Emmy Award winner Gary Smith who has closed a deal with executive producers Steve Jaffe and Linda Morand, herself a former top fashion model.
Dr. Victor is a cosmetic surgery innovator, a practicing cosmetic dermatologist in New York City and also founder of the liposuction alternative, LaserSculpt Network of Physicians featured in the infomercial "LaserSculpt." He has treated numerous celebrities and models over the years and has been featured in fashion magazines, newspapers and has appeared on television shows, including VH1 Hollywood Cougars. He worked as a model in NYC while attending New York University from 1969-1973.
"I am honored to be selected to be on the panel with all the other talented people from other industries and I feel it is time we have a venue to honor the models of the past and present for all their work and their influence on fashion, beauty and society," states Dr. Victor.
About Dr. Steven Victor and the LaserSculpt Network
NYC Cosmetic Dermatologist, Dr. Steven Victor, has been practicing for over 25 years. Dr. Victor trained at New York Medical College. In addition to being known for his work in laser lipolysis, an alternative to liposuction, he has won the Fashion Group International Rising Star for Beauty 2006 and Little Flower Humanitarian award 2006. For more information about Dr. Victor and the LaserSculpt Network, please visit http://www.lasersculptnetwork.com.
Contact:
Dr. Steven Victor
212.249.3050
###