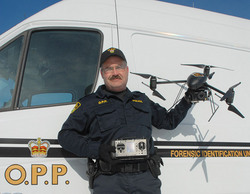 Having used a fixed wing UAV since 2007, I could see the potential for great benefits to our forensic support operations. It gave us the ability to collect aerial evidence quickly and at minimum cost
Saskatoon, Saskatchewan (PRWEB) March 26, 2009
From the pages of Popular Science Magazine's "Top 100 Innovations of the Year", Draganfly Innovations' Draganflyer X6 Unmanned Aerial Vehicle (UAV) has made the significant leap to commercial utilization.
The six-rotor, one kilogram, electric, VTOL, UAV helicopter designed for aerial photography and videography was used by the Forensic Identification Unit of the Ontario Provincial Police (OPP) on February 21, 2009 to collect evidence in a homicide investigation in a remote area outside of Kenora, Ontario, Canada. This represented the first operational mission of a federally approved, commercially produced Unmanned Aerial Vehicle by an emergency service in North America.
Then, in March, 2009, the Saskatoon Police Service announced that it will follow suit, becoming the first urban police service in North America to utilize the Draganflyer X6 Police UAV for aerial forensic purposes within city limits.
Unmanned Aerial Vehicles such as Draganfly's Draganflyer X6 helicopter are subject to Transport Canada aviation regulations. Prior to the Saskatoon Police Service being able to test the Draganflyer X6, Transport Canada officials were in Saskatoon for a flight demonstration, to undertake their standard risk assessment testing, and discuss technical issues with Draganfly Innovations.
Under the Special Flight Operations Certificate granted by Transport Canada, Draganfly Innovations personnel will operate the Draganflyer X6 Police UAV Helicopter while Saskatoon Police Service personnel will operate the cameras used for forensic support.
The use of UAVs goes back to the 1950's with the military, but only recently has it evolved into police applications. One of the innovators was Identification Constable Marc Sharpe of the Kenora Identification Services unit of the Ontario Provincial Police.
"Having used a fixed wing UAV since 2007, I could see the potential for great benefits to our forensic support operations. It gave us the ability to collect aerial evidence quickly and at minimum cost," states Sharpe. "However, it also became apparent that in order to improve and expand operational effectiveness, an optimal UAV would need certain attributes. It would need to be small and light, have Vertical Take Off and Landing VTOL capabilities, have a GPS hold system while hovering, be constructed of exceptionally strong materials and be completely transportable."
The Draganflyer X6 met all Sharpe's requirements for a Police VTOL UAV. Sharpe continued, "The Draganflyer X6 enables us to economically obtain high quality aerial photos of major case scenes in a timely fashion."
About Draganfly Innovations Inc.:
Draganfly Innovations Inc. has been manufacturing Unmanned Aerial Vehicles including radio controlled helicopters, airplanes, and airships for the past eleven years. From toys to industrial tools for police and military, Draganfly Innovations Inc. strives for optimum performance and ease of use. Draganfly's innovative products have been featured on CNN Headline News, MSNBC, Discovery Channel, and in magazines and newspapers such as Popular Science, Popular Mechanics, Gizmodo.com, WIRED, GQ, Stuff, Maxim, The New York Times, and The London Times. All Draganflyer helicopters, including the new Draganflyer X6 are exclusively available from Draganfly Innovations Inc.
###