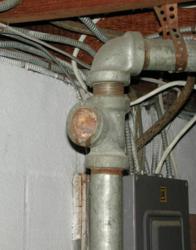 When running cast iron horizontally, wear safety glasses, especially when cutting pipe overhead.
Youngstown, Ohio (PRWEB) August 30, 2012
Once the mainstay of drain lines, interior cast iron is installed today only if you want an especially quiet drainpipe, according to Mr Rooter, the most referred plumbing company in the Northeast Ohio and Southwest Pennsylvania region. Bob Beall, president, and master plumber, offers free plumbing tips daily for the consumer. "Most of the time I use cast-iron or galvanized pipe in the walls around a dining or living room."
According to Beall, "most of the time a homeowner will be working with these two plumbing materials only when cutting it out during a remodel, but sometimes, it is requested in new home construction for the above mentioned reason; it is quiet.
"It used to take special tools to cut cast iron, but today we use diamond blades on a cut-off saw or a circular saw," says Mr Rooter.
Mr Rooter's Tip Of The Day
Tip #1 Diamond blades are available for reciprocating saws. Galvanized drainpipe can be cut easily with a fine-tooth blade (or diamond blade) on a reciprocating saw. Using a diamond blade on a circular saw, cut the cast-iron pipe as much as possible. Finish with the reciprocating saw with the same type of blade.
Tip #2 To interface plastic pipe with cast iron, use a banded Fernco® or a "no-hub" fitting (a flexible coupling with a stainless band around it).
Tip #3 Common flexible couplings without any band protection will also do the job when all allowed by code.
BONUS TIP: When running cast iron horizontally, support the pipe every 3 ft. to 4 ft. Because it's heavy, it also needs to be supported right after any interface with plastic pipe.
WARNING: Always wear safety glasses, especially when sawing or working overhead. Fine metal dust can be extremely hazardous to the eyes. Rubbing eyes that have been exposed to this dust with scratch the cornea.
Mr. Rooter's Daily Tips are provided by Mr. Rooter Plumbing.
Subscribe today! (bottom right corner).
There's A Reason They Call Us Mr.™
Debra Santavicca PR, SMM, WebIT
Mr. Rooter Media Center
724-553-9510
http://www.rooter2.com