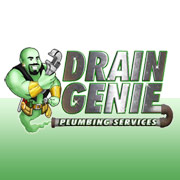 Due to Florida's position over a large hard water table water treatment systems are essential for the Florida home.
Orlando, FL (PRWEB) March 30, 2013
With the addition of a new line of North Star Water Treatment Systems, Drain Genie Plumbing is serving new and existing customers the ability to improve home water quality. From water softeners to reverse osmosis systems, these new services are designed to remove chemicals and minerals from hard water which can cause mineral buildup, or scale, reducing water flow in pipes and eventually clogging them completely.
As water moves underground it absorbs minerals and harmful chemicals due to its solvent nature. These minerals, like calcium and magnesium, can damage a home's plumbing systems and can make water less palatable to the taste. Water softeners filter out many of these minerals and chemicals, lessening the effect of potential blockages in pipes due to residue and lime scale build up over time.
Along with its other services like water damage restoration and kitchen plumbing, Drain Genie's new treatment services also include installation options for whole house filtration and reverse osmosis systems as well as water softeners.
Drain Genie owner, John Bodrato, has chosen North Star Water Treatment Systems to provide new water treatment services for residential and commercial plumbing clients in Orlando, FL, and the surrounding areas. According to Bodrato, "Due to Florida's position over a large hard water table water treatment systems are essential for the Florida home. Harmful chemicals like arsenic can find their way into drinking water if not filtered properly. A whole house filtration system combined with a reverse osmosis system can add years to a water softener and removes 99.9% of contaminants."
Bodrato added, "Without the use of proper equipment like well-maintained water heaters and water softeners, hard water is tough on appliances like washing machines and dishwashers. The hard water forces them do double the work, wearing the machines down faster and leading to increased electricity usage. Installing a water softener alleviates this issue and can cut down on electricity bills by up to 30%."
Through the use of a testing kit, plumbers can calculate the amount of harsh chemicals found in hard water sources. Finding out the level of particulates in hard water can help to determine how severely a given home needs water treatment services.
Customers interested in water treatment services should visit Drain Genie Plumbing's website at http://www.orlando-plumber-services.com/ for more information.
About Drain Genie Plumbing
Owner of family-owned and operated Drain Genie Plumbing, John Bodrato, has over 15 years of experience in the plumbing business. The mission of Drain Genie's crew of master and journeyman plumbers is to produce high-quality, five-star work with honest business practices and without cutting corners. Drain Genie Plumbing is based in Orlando, FL, and serves all central Florida communities.