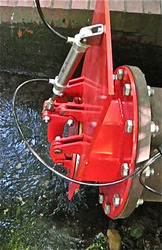 Our role is to provide advice as well as practical solutions to our clients. That includes consultancy for organisations aiming for ISO14001 or PPG accreditation
(PRWeb UK) October 15, 2010
Independent drainage consultants The Lanes Group has joined forces with Aqua Sentry to help clients avoid spills and pollution of watercourses and systems.
The move is a result of Lanes' recent ISO 14001 consultants work with organisations aiming to meet IPPC (Integrated Pollution Prevention and Control) legislation, Pollution Prevention Guidelines and ISO14001 Environmental systems.
It should also help them to avoid unnecessary and costly environmental mistakes, says Aqua Sentry's director Rob Staines:
"Contravening European Environmental Directive 2004/35/EC, which uses a 'polluter pays' principle, can result in unlimited fines or two years' imprisonment.
"Yet according to the Environment Agency, every year there are more than 5,000 pollution incidents involving oil, production effluent and fuels in the UK. Although some of these are on land, the vast majority affect the water environment.
"On average, a spill costs a typical business up to £30,000 in fines, clean up charges and production losses.
"With Aqua Sentry monitoring and containment products, clients ensure their facility complies with stringent pollution prevention guidelines and avoid such sanctions."
The product range includes innovative interceptor monitoring, site closure devices and bund water control units.
Installing level alarms for separators, bunds and oil tanks eliminates unnecessary waste management costs and raises the alarm if there is a pollution risk. Pollution can then be stopped at the touch of a button, thanks to revolutionary closure devices which shut down the drains within seconds, stopping pollution from leaving the site. This immediate response system can be initiated manually, by computer or by mobile phone.
Lanes' marketing manager, Michelle Ringland, explains why the UK's largest independent drainage specialist has chosen to partner Aqua Sentry:
"Our role is to provide advice as well as practical solutions to our clients. That includes consultancy for organisations aiming for ISO14001 or PPG accreditation through their drainage maintenance and repair programmes and waste management procedures, and providing regular, high quality CCTV surveys and up-to-date CAD drawings.
"In helping clients to devise these overall drainage strategies, we found we were being asked about pollution containment and prevention and we felt that we should be able to offer this service alongside our own.
"Aqua Sentry is a market leader in this technology, so adding its products and services to our own was a natural choice. And it has already been well received by existing — and new — clients."
For more information about the Aqua Sentry range, please call the Lanes Drainage Advisory Team on 0800 526488
Background:
The Lanes Group plc has 21 depots across the UK. Lanes for Drains, the UK's largest independent drainage specialist with services including drain jetting; Lanes Sewer Renovation; Lanes Engineering and Construction; Active Hygiene Services and Active Pest Control are all part of the Lanes Group, which has over 800 staff and a turnover of £70 million.
###