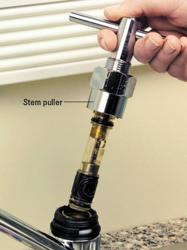 Hard-water mineral deposits or lubrication loss would make the cartridge hard to pull up and push down.
Youngstown, Ohio (PRWEB) June 13, 2012
"Although older-style Moen faucets featured an uncomplicated design," according to Bob Beall, Mr. Rooter Plumbing Youngstown, "they would exhibit one primary problem."
"Hard-water mineral deposits or lubrication loss would make the cartridge hard to pull up and push down," says Beall, the most referred plumber in the Southeast Pennsylvania and Northeast Ohio regions. Nevertheless, according to Mr. Rooter, the older faucets are easy to work on. The procedure for shower and sink faucets is essentially the same thing.
According to Beall, "Unless you have the original paperwork with the cartridge number, you will have to disassemble the faucet, and take the cartridge to your hardware store to find an exact match. If there's no lube on the replacement cartridge, and none is provided or for sale, be sure to lube it with plumber's grease before you reassemble the faucet."
Tip #1 Start by removing the handle, as with any faucet. If it is difficult to get the handle off because the set screw is stripped out, it will be necessary to drill out the set screw or break off the handle. Remove the handle, and purchase a replacement.
Tip #2 Once the handle is off, remove the two long escutcheon screws and pull off the plate.
Tip #3 At this stage, if the intention is to replace the entire valve body, it will be necessary to work on the back side of the shower wall (if this is a shower assembly), but if this is just a cartridge replacement, continue with the disassembly.
Tip #4 A stainless cartridge collar will now be evident–it has an indent that must always point up. Remove the collar, then using needle-nose pliers, grab the top of the U-clip and pull up. The U-link will come straight up and out.
Tip #5 Next, grab the cartridge stem with a pliers stick, but pull hard enough and it will come. Wipe the inside of the cartridge housing with a rag to clear it from sediment. Lubricate and replace the cartridge, then reassemble the faucet.
Tip #6 Remember to install the collar with the indent up, toward the shower head or faucet spout.
"You are in business," says Beall. The old-style Moen system lasts a long time and is simple to repair. Look for cartridges at all hardware stores. Check out our LIVE chat and ask Mr. Rooter any questions regarding plumbing issues. Mr. Rooter Plumbing in Pittsburgh and Youngstown serve the following areas for emergency plumbing services and Mr. Rooter stands behind his FREE second opinion guarantee!
Beaver|Cranberry|Pittsburgh|Sharon|Mercer|Lawrence|Washington|Westmoreland (Pennsylvania)
Trumbull|Mahoning|Columbiana (Ohio)
Debra Santavicca, PR, SMM, WebIT
http://www.mrrootermedia.com
http://www.mrrooterpgh.com