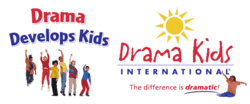 The Northeast Atlanta Drama Kids program wants to help parents and teachers see the connection between their program and academic success.
Atlanta, GA (PRWEB) August 31, 2012
Drama Kids International (DKI), the most popular afterschool drama instruction program in the world is a highenergy program that prides itself on preparing children for much more than that ominous audition, and focuses more predominantly on all-around development of children. Success is not measured as much by theatrical performance as it is by a child's growth in confidence, self-esteem and articulate expression. Now, the Northeast Atlanta Drama Kids program wants to help parents and teachers see the connection between their program and academic success. And they are seeking schools that would like to bring DKI classes to afterschool programs in educational settings.
"Drama Kids has a long history of developing children, teaching them the basic fundamentals that most successful people possess such as leadership, listening, and social skills, teamwork, verbal expression and active participation," says Northeast Atlanta Executive Director Tomiko Nichols. "Most people can see how these skills promote success in life, but they are also traits of students who perform well in school." Nichols, who already teaches classes in community centers and churches, said she felt compelled to get her classes into the schools when her sister, Kym Crooms, told her about the Georgia Grade Level Reading Campaign. Crooms helped to manage the campaign which was implemented to ensure all children in the state are able to read by the time they are in third grade.
Campaign leaders researched the science of reading and learned that children's brains begin to be wired for reading at birth, and that verbal communication is critical for early reading success. Dr. Maryanne Wolf, director of the Center for Reading and Language Research at Tufts University, said that talking to your child and getting your child used to hearing and speaking language is necessary for that wiring. Although a child can know over a thousand words before they even utter their first vowel, many are word deficient. In fact there is a significant word gap between children from disadvantaged backgrounds and those from upper income households. Disadvantaged children hear on average 30 million fewer words than their peers in the first five years of life.
Drama Kids teaches an evidence-based curriculum that meets Georgia's performance-based standards. "The skill sets that are taught by our teachers," said Nichols, "are very closely aligned to the skills every student needs to be successful in school. The science is fascinating, but we have known for years how essential verbal communication and dramatic expression is to academic learning."
Crooms said she witnessed first-hand how confidence also plays a role in a child's level of comprehension. "I saw a group of children enrolled in a Summer Learning program in Savannah who were at risk of not being able to read on grade level," she said. "As they began to pick up on the sounds and recognize letters they began to sit up a little straighter in their seats and smile more often; self assurance blossoming. It appeared that as confidence grew so did the acceleration in learning, and therefore greater gains in reading skills."
"Well, if there is one thing Drama Kids knows how to do, that's build confidence in kids," said Nichols. "I would love nothing more than to ensure every student in Georgia has it."
Northeast Atlanta area schools interested in bringing Drama Kids to their campus may call 770-776-7742. Information about enrollment in 2012-2013 classes can be found at http://www.dramakids.com/ga3.