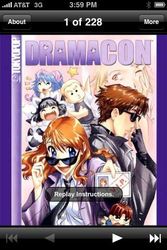 TOKYOPOP is excited about manga and comics on the iPhone. It's the first mobile display with such immediate, powerful appeal to readers, and the revolutionary App Store distribution model makes sense for publishers and creators alike
Kansas City, MO (PRWEB) January 27, 2009
Dramacon, one of the top-selling manga series in the United States, is available now on iPhone and iPod Touch through Uclick, the #1 distributor of comics and games on mobile phones, in partnership with manga publisher TOKYOPOP. Volume one of Dramacon is available on the iPhone App Store in two parts at $.99(US) cents each.
Dramacon is a global manga by Svetlana Chmakova, commissioned and published by TOKYOPOP in North America and now available in many languages around the world. Chmakova's manga tells the tale of a manga artist attending her first fan convention. As her status quo unravels, encounters with her manga idol and a mysterious stranger take her life in an unexpected and exciting new direction.
"Dramacon is a manga story that readers have connected with on a personal level, and this mobile presentation of Dramacon offers something for everyone," said Uclick CEO Douglas Edwards. "If you're a longtime fan of the series, this is your opportunity to experience it in a new way and take it with you wherever you go. If you're someone who has yet to develop an appreciation of manga, the inexpensive 99-cent price point and the devices' ease of use make this a great place to start."
The Dramacon iPhone Apps feature tap-and-swipe, panel-by-panel controls. The large multi-touch screen on the Apple device enables clear, high-resolution presentation, but users can also utilize the zoom feature to get an even closer look at any panel.
"TOKYOPOP is excited about manga and comics on the iPhone. It's the first mobile display with such immediate, powerful appeal to readers, and the revolutionary App Store distribution model makes sense for publishers and creators alike," says TOKYOPOP Associate Publisher Marco Pavia. "There's a lot of manga and comics coming to the iPhone, but Uclick has done a superior job, setting themselves head and shoulders above the crowd. One of their secrets is taking the time and effort to remake multi-panel pages for a panel-by-panel presentation that delivers a fluid and easy-to-follow reading experience. Only time (and sales figures) will tell, but panel-by-panel may well be the most reader-friendly way to display manga on mobile and handheld devices. "
To get Dramacon and other favorite comic books, manga and graphic novels for the iPhone and iPod Touch go to the new Uclick Web App by typing Uclick.com into the Safari browser or visit the App Store on the iPhone or on iTunes.
Uclick has created dozens of comic apps for the iPhone in recent weeks, including Teenage Mutant Ninja Turtles, Godland, Halo & Sprocket, as well as webcomic collections Pibgorn, Basic Instructions and We the Robots. Uclick also recently announced that the first volume of Bone, comprising the first six issues of Jeff Smith's critically-acclaimed fantasy series, is available now for iPhone and iPod Touch.
About UCLICK:
UCLICK® is the leading digital entertainment provider of humor, comic strips, manga, graphic novels, editorial cartoons, and other content for desktop, web and mobile phones. Uclick is also the leading creator and distributor of crosswords, and other word and number puzzles. Partners featuring Uclick content include the leading consumer portals Yahoo!, MSNBC.com, New York Times, Slate.com washingtonpost.com, CNN, USA Today, and AOL. Uclick features include the top brand franchises Garfield, Doonesbury, Calvin and Hobbes, Paul Frank, Teenage Mutant Ninja Turtles, TOKYOPOP, USA Today, Pat Sajak, Wyland, and many more. Uclick creative content and services are available through the GoComics.com website, U.S. mobile phone operators, the iTunes App Store, and other distributors worldwide. UCLICK, LLC is a division of Andrews McMeel Universal, the leading newspaper syndicate and publisher of humor books and calendars in North America.
For more information on Uclick, visit http://www.uclick.com.
About TOKYOPOP:
TOKYOPOP is hailed as a leading youth-oriented entertainment brand and an innovator of manga creation, with a revolutionary artistic vision that transcends countless platforms. From the introduction of the first-ever extensive manga publishing program in North America, to the development of its manga-originated intellectual properties into film, television and digital entertainment, TOKYOPOP has changed the way teens experience pop culture. The company's global reach has expanded to Europe and Asia, with recent offices opening in the UK and Germany and upcoming partnerships in Australia and China, in addition to its original Los Angeles and Tokyo operations. With millions of fans logging onto the new social networking site http://www.TOKYOPOP.com, reading its books, which are licensed in 41 countries in more than 20 languages, and watching its DVDs and television programs, TOKYOPOP's award-winning catalogue of licensed and original properties has made the company a visionary in an ever-growing teen entertainment marketplace.
Visit http://www.TOKYOPOP.com for additional information.
###