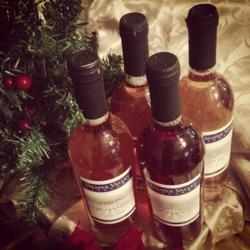 "Grape juice can have a similar effect (against heart disease) as red wine but without the alcohol. That is a very important message."

Dr. Valerie Schini-Kerth, Universite Louis Pasteur de Strasbourg
SELMA, OREGON (PRWEB) November 27, 2012
The holidays often involve seemingly endless celebrations with friends and family. While juggling these activities with everyday commitments, many people find themselves hard-pressed to stick to their usual diet and fitness routines. How can one survive the holiday season while balancing out all the indulgences? Enjoying a glass of Draper Valley Vineyard's artisan, non-alcoholic, 100% grape juice is a start. Draper Valley uses premium wine grapes in all of their juices. Rich in antioxidants and flavonoids, grape juice is a delicious, healthy alternative to alcoholic beverages.
Recent health publications have touted the health-protecting benefits of grapes. According to an article written by Dr. Martha Grogan of the Mayo Clinic entitled Grape Juice: Same Heart Benefits as Wine?, "some research studies suggest that red and purple grape juices may provide some of the same health benefits as red wine." These benefits include:

Reducing the risk of blood clots
Reducing low density lipo-protein (LDL or "bad" cholesterol)
Preventing damage to blood vessels in the heart
Helping maintain a healthy blood pressure
Dr. Grogan also notes that, "Grapes are rich in health-protecting antioxidants, including resveratrol and flavonoids."
In an earlier laboratory study, published in the January 2007 issue of Cardiovascular Research, Dr. Valerie Schini-Kerth and a team of researchers from Universite Louis Pasteur de Strasbourg observed the beneficial effects of grape juice on the arteries of the heart. "Grape juice can have a similar effect (against heart disease) as red wine but without the alcohol. That is a very important message," said Dr. Valerie Schini-Kerth. The study also found that grape juice:
Helps to maintain healthy, flexible blood vessels
Produces a relaxing effect
Delicious on their own or used as a mixer, Draper Valley's artisan, 100% grape juice contains no concentrates or sweeteners. They have zero alcohol which makes them an appealing choice for children as well as people who choose not to drink alcohol for health, dietary, religious or personal reasons. Draper Valley offers six varietals and two sparkling juices, including:
Pinot Noir Grape Juice
Chardonnay Grape Juice
Early Muscat Grape Juice
Cabernet Sauvignon Grape Juice
Riesling Grape Juice
Gewurztraminer Grape Juice
Draper Valley grape juices can be found in select restaurants and retail outlets, and online at http://www.DraperValleyVineyard.net/health.
About Draper Valley Vineyard
Founded in 2002 by Al and Sandy Curtice, Draper Valley Vineyard™ is dedicated to the production of a pure, all-natural wine-grape juice from its estate vineyard located in Selma, Oregon. Visit http://www.DraperValleyVineyard.net/health to learn more.