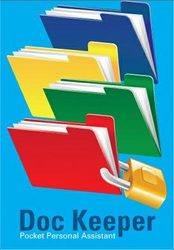 When I was at home, mom used to keep me organized. Way organized! If I needed my vital docs, my car loan account number, the receipt for my ipod - she knew exactly where to find it. Say hello to Doc Keeper. The best mom replacement app on the market.
Rochelle Park, NJ (PRWEB) April 9, 2010
Dr. Appz LLC launches Doc Keeper Pocket Personal Assistant, a comprehensive productivity application for the iPhone. Developed to serve as a convenient, user-friendly "pocket personal assistant", Doc Keeper is more than a "to-do-list" organizer. It's the prescription for a busy, and often times unmanageable, lifestyle.
Until now, users searching for an app that truly functioned as a personal assistant needed to download several dedicated apps. Doc Keeper has bundled many of the most desirable functionality into one stand-alone application. Portable, centralized and secure, it's a place to store and recall vital documents, schedules, contacts, passwords and account information, medical information and much more.
"Today, nearly everyone struggles with a busy lifestyle and who hasn't wished for their own personal assistant to keep it all straight and organized?" said Dr. Appz Chief Creative Officer Steven Fox. "Doc Keeper is a productivity app like no other on the market because of the breadth of functionality if affords users. It's the right tool for anyone who needs more organization in their life." Some of the functionality includes the ability to take multiple photos of your documents and upload them to pre defined centers and categories. You will also have the ability to set reminders for documents in your life that have expiration dates.
Affordably priced at $2.99 and downloadable from iTunes, just a few of the app's key features include:
Home Center - store home maintenance and upkeep schedules; prompting reminders and linking to providers
Insurance Center - maintain policy information, rates, claims, payments, covered item images and more
Medical Center - keep track of appointments, prescriptions, refills, dose instructions and warnings; store, recall and forward test results, images and medical reports; search for providers and pharmacies
Memberships and Clubs - manage contact information, meeting dates, membership roster, dues and event or game calendars
Vehicle and DMV - be reminded of car maintenance, service and repairs; store EZ Pass and DMV information; DMV branches, local repair centers, car dealers and gas stations
Vital Document Center - safely store details and images for driver's license, social security, passports, visas, birth certificates, military documents, education transcripts, and more; link to government and expediting offices for easy renewals or to report stolen / lost documents
Headquartered in Rochelle Park, NJ, Dr. Appz is a leader in designing, developing and delivering powerful, personal productivity apps that are rooted in state-of-the-art technology, innovative software and enhanced multi-level security functionality. For more information visit http://www.drappz.com.
###