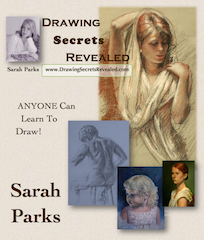 "I think you are the best thing that's happened to me. All of the lessons are great and could not be better! I cannot express how much I am enjoying this class. You are the BEST!" - Peggy, Chesapeake, VA
Hampton Roads, VA (PRWEB) September 07, 2011
"Drawing Secrets Revealed" is a college-level online video course by Sarah Parks Fine Artist that teaches drawing instruction in a thorough, organized framework that is tailored to art students who want to learn to draw, or learn to draw better. The series is structured around twelve video lessons that come complete with detailed lesson summaries and supplemental materials to facilitate the practice and absorption of the concepts presented. Now, visitors to the online drawing instruction website will be able to explore this series by watching the first lesson's YouTube lesson preview for free! The lesson preview presents what is addressed in the video lesson while explaining that some segments are available only in the full-length video lesson. Sarah's first lesson preview is available on the home page of her website, as well as on her YouTube channel, sarahparksartist.
Sarah's philosophy centers around the belief that many art students attempt painting or other color media before they have understood the fundamentals of drawing, often ending up frustrated at their attempt and then mistakenly assuming they don't have talent. Sarah believes the cause is trying to learn two disciplines at the same time. This series, designed to help the amateur artist master the basic principles of drawing, kicks off with the first lesson, "Getting Started."
This lesson's preview explains how brain research shows that drawing activates the right side of the brain, and addresses supplies and best practices that will start a student off on the right foot. While it may seem a simple matter to gather a few supplies such as pencils, eraser, and paper, Sarah presents some often underused supplies and drawing techniques and explains why they are useful and how to use them. Included in the lesson preview are some of Sarah's personal best practices, pencil grips, and introductory explanations of some of the concepts which will be addressed in greater detail in later lessons.
The entire course, as well as lesson previews, is available on the "Drawing Secrets Revealed" website, http://drawingsecretsrevealed.com.
###