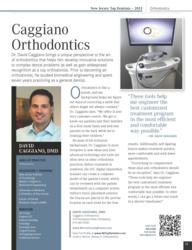 "I feel so fortunate to be an orthodontist. I absolutely love what I do…" – Dr. Caggiano
Parsippany, NJ (PRWEB) February 27, 2013
In December of 2012, Dr. David Caggiano was featured in NJ Top Docs, Annual Resource Guide, "Top Dentists". The magazine was distributed in homes across the state and featured reviewed and approved dentists. Dr. David Caggiano has been approved three years in a row and featured on NJ Top Dentists online and now in print. This comes at no surprise given his excellence and dedication to his patients.
Caggiano Orthodontics is a perfect blend of Dr. Caggiano's education, experience, and interests. Combining his background in biomedical engineering, his extensive training including seven years of experience as a general dentist, and his artistic talent allows Dr. Caggiano to create innovative approaches to solve even the toughest orthodontic situations. Dr. Caggiano's skills have earned him many awards and commendations.
Dr. Caggiano's patients can rest assure that they are receiving the best in orthodontic health care. His goal is to provide the most up-to-date technology and techniques while using the best materials possible. He is devoted to life-long learning and furthers his education through reading, attending conferences, continuing education courses, and study clubs.
"I feel so fortunate to be an orthodontist. I absolutely love what I do. It is truly rewarding to watch a patient who is insecure, shy, and introverted (partly due to having crooked teeth) grow to become confident and outgoing. It is an amazing transformation that will never cease to fascinate me." – Dr. Caggiano
Dr. David Caggiano's practice, Caggiano Orthodontics is conveniently located in Parsippany, New Jersey. For more information please visit Dr. David Caggiano's full profile at http://www.njtopdocs.com/CaggianoOrthodontics
If you would like to receive a copy of the 2013 "Top Dentists" magazine, please contact NJ Top Docs at info(at)NJTopDocs(dot)com
About Us
NJTopDocs.com is a comprehensive information resource of Top Doctors, Dentists and Hospitals. We are profiling over 900 Healthcare Providers and have made it convenient for you to find them.
NJTopDocs.com allows patients to "meet" these providers online before making their appointment.
For more information, e-mail us at info(at)NJTopDocs(dot)com and/or visit http://www.NJTopDocs.com.
You can also follow us on Facebook – Twitter – YouTube