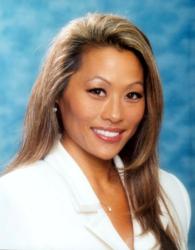 I Have Never Allowed A Stereotype To Limit My Dreams
Naperville, IL (PRWEB) May 10, 2012
At the American Academy Of Dentistry's (AACD) 25th annual black tie awards ceremony held at the Gaylord Hotel in Washington DC, Dr. Chiann Fan Gibson (http://www.drchiann.com, who practices dentistry in Naperville Illinois), made history. In a profession dominated primarily by men, Dr. Gibson took another giant step for women by becoming the first female dentist to achieve "Accredited Member" status in her 4 state region of 16,570 dentists (Illinois, Indiana, Wisconsin and Iowa). Dr. Gibson was quoted, "I have always enjoyed treating my patients, knowing that I have done my very best to help insure their dental health. I have never allowed a stereotype to limit my dreams."
There are 1.8 million dentists in the world with 191,000 in the United States. Of these dental professionals, 6700 from 70 countries qualify as AACD members, 25,000 total in its 25 year AACD history. Only 336 dentists have passed / achieved the qualifications necessary to become an AACD Accredited Member. Dr. Gibson is now ranked as one of the leading cosmetic dentists in the world.
Making history is nothing new for Dr. Gibson, achieving accomplishments once thought impossible for a minority female. Dr. Gibson's path had a very humble start as an Asian immigrant born in Japan with Taiwanese heritage, who came to Texas at the age of 3. Dr. Gibson strived and received numerous scholastic awards / scholarships throughout her education, even ironically winning the, "Daughters of the American Revolution" essay scholarship. If there is a challenge, Dr. Gibson rises to the task.
At the University of Washington, Dr. Gibson was chosen as 1 of 13, out of 3000 auditions, to become a 3 year University of Washington Husky Cheerleader. Dr. Gibson's athletics took her to compete in the Marine Corps Marathon in Washington DC with her twin sister Ping, both receiving a medal for their time of completion. Dr. Gibson has also competed in mini triathlons.
Needing scholarship funds to help for college, Dr. Gibson entered pageants, winning her first attempt at 16, becoming the first Asian "Washington's Jr. Miss. By 18 she also was crowned Miss Washington USA, again the first minority to do so. 16 years later, Dr. Gibson competed and won Mrs. Illinois, going to the nationally televised Mrs. United States pageant and was crowned Mrs. United States 2005, as usual, the first Asian to win. Dr. Gibson was also a model contestant on ABC-TV's, Are You Hot, chosen from over 30,000 auditions.
Donald Trump awarded Dr. Gibson the very first title of "The Official Dentist of The Miss Universe, Miss USA and Miss Teen USA Pageants" in 1998. Many of the smiles you see on those telecasts have had Dr. Gibson's expert talents in creating a beautiful natural smile.
Dr. Gibson closed her acceptance speech in saying, "I am extremely proud of my Asian heritage, my strength as a woman, and my determination to succeed as 'An American'. I still strongly believe that there is no other country in the world where a person of any sex, race or age, can achieve their desires, more than in America."