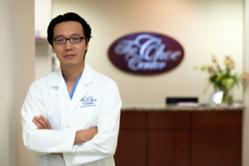 While Dr. Choe performs a wide variety of plastic surgery procedures of the face and neck, he has a particular interest in hair restoration.
Virginia Beach, VA (PRWEB) February 27, 2013
Renowned facial plastic surgeon and hair restoration specialist Dr. Kyle S. Choe of the Choe Center for Facial Plastic Surgery in Virginia Beach, Virginia, is pleased to announce his new website dedicated to hair restoration.
Dr. Choe's new website, http://www.virginiahairtransplantsurgery.com, is an excellent resource for those with hair loss who are considering hair restoration. Visitors will find detailed information about male and female hair loss, candidates for hair restoration, and hair restoration techniques and recovery. There is also an extensive FAQ section and Q&A blog. For individuals who are bothered by hair loss and considering hair transplant surgery, Dr. Choe's site is a must-see.
While Dr. Choe performs a wide variety of plastic surgery procedures of the face and neck, he has a particular interest in hair restoration. Hair restoration can effectively reverse hair loss by restoring a natural hairline and filling in a balding crown or other patches of hair loss. Follicular unit grafting (FUG), often referred to as the "strip method," is the most common method of hair restoration today. With this technique, a strip of hair-bearing scalp is excised from the back of the head and dissected into tiny grafts which are transplanted to bald and thinning areas. While this is an excellent technique, Dr. Choe often prefers the newer, more advanced method known as the follicular unit extraction method (FUE). With FUE, a high pressure pneumatic system is used to remove individual hair follicles from the back and sides of the scalp, thus avoiding the strip scar associated with FUG. Both are quick, minimally-invasive procedures performed under local anesthesia with little to no pain and minimal downtime.
Dr. Kyle S. Choe is a double board certified surgeon specializing in cosmetic and reconstructive plastic surgery of the face and neck. He is board certified by the American Board of Facial Plastic and Reconstructive Surgery and the American Board of Otolaryngology – Head and Neck Surgery. He is also certified by the International Society of Hair Restoration. Dr. Choe obtained his undergraduate degree from Occidental College and his medical degree from the University of Rochester School of Medicine Dentistry. Each year, he participates in a yearly medical mission to areas in Central and South America, Asia and Europe to treat impoverished adults and children with birth defects and other deformities requiring reconstruction. Dr. Choe is excited to now offer patients two comprehensive websites. Between his hair restoration site and his standard site, http://www.choecenter.com, he hosts monthly events so potential patients can ask questions in an honest and open forum.
The Choe Center for Facial plastic Surgery is an AAAHC-accredited office-based surgery center offering state-of-the-art cosmetic and reconstructive surgical care in a private, safe, comfortable setting. They offer a full array of surgical and non-surgical procedures including brow lift, facelift, blepharoplasty, cheek augmentation, chin augmentation, neck lift, lip augmentation, ear surgery, rhinoplasty, skin cancer reconstruction, Ulthera, Botox and injectable fillers, prescription skin care, chemical peels and more.