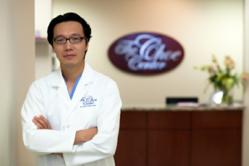 Virginia Beach facial plastic surgeon Dr. Kyle S. Choe is donating money for Facebook "Likes" to support Samaritan House
Virginia Beach, VA (PRWEB) June 11, 2013
Virginia Beach facial plastic surgeon Dr. Kyle S. Choe is donating money for Facebook "Likes" to support Samaritan House, a non-profit committed to helping victims of domestic violence and homelessness.
Samaritan House is a non-profit organization located in Virginia Beach, Virginia, dedicated to fostering safety, self-sufficiency and personal growth for victims of domestic violence and homelessness. Samaritan House provides emergency and transitional housing to both adults and their children, sheltering some 110 people per night between 11 emergency shelter houses and 10 transitional housing units. They also operate 27 affordable apartment units, host a 24-hour crisis hotline, hold various support and training groups, and provide children's programs designed to help youth affected by violence and homelessness build self-confidence, improve academic performance and establish healthy relationships.
In support of Samaritan House and the extraordinary work that they do, Dr. Choe is holding a Facebook campaign throughout the month of June. He has pledged to donate money to the Samaritan House in exchange for "Likes" to the Choe Center's Facebook business page. Dr. Choe will donate $500 for every 250 Likes, $1000 for every 500 Likes, $1500 for every 750 Likes, and $2000 for every 1000 Likes. He encourages his patients and friends to take the time to learn about Samaritan House and join him in supporting those touched by domestic violence and homelessness. To show your support, visit the Choe Center on Facebook and Like them at https://www.facebook.com/ChoeCenter.
Dr. Kyle Choe is a board certified facial plastic and reconstructive surgeon. He has been a supporter of the Samaritan House for the past two years. He views his involvement with the organization as a natural extension to the work that he does with the American Academy of Facial Plastic and Reconstructive Surgery's Face to Face program in which he performs pro bono surgery for victims of domestic violence.
At his Virginia Beach plastic surgery practice, Dr. Choe specializes in cosmetic and reconstructive plastic surgery of the face and neck, including eyelid surgery, facial implants, facelift, brow lift, fat transfer, lip augmentation, neck lift, ear surgery, rhinoplasty, scar revision, Botox and injectable fillers, chemical peel, dermabrasion, laser resurfacing and more. To contact Dr. Choe call (757) 389-5850 or visit him online at http://www.choecenter.com/