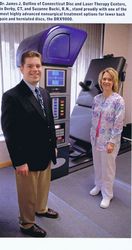 With all the great success we have been getting, and helping patients to avoid surgical procedures, we have been inundated with lots of referrals as everyone seems to know someone who knows someone else that is suffering with back pain and has not had any success with what they have tried in the past
Shelton, CT (PRWEB) July 6, 2009
Patients suffering from spinal related conditions such as herniated discs, degenerative disc disease, bulging discs, sciatica, chronic lower back pain, and spinal stenosis are soon discovering the benefits of non surgical spinal decompression, and the DRX 9000.
Treating patients with these various conditions for years, Dr. James J. Dalfino benefited from learning about the discovery of non-surgical spinal decompression for the treatment of back conditions, and introduced it to his practice more than 4 years ago.
"Since introducing non-surgical spinal decompression to Connecticut and treating over 300 patients over the last 4 years, our clinic has boasted great success with patients who have been suffering from chronic lower back and leg pain for years and are finally now getting better," says Dr. Dalfino.
And now that public word is getting out on the benefits and results, Dr. Dalfino's clinic has been getting busier and busier. "With all the great success we have been getting, and helping patients to avoid surgical procedures, we have been inundated with lots of referrals as everyone seems to know someone who knows someone else that is suffering with back pain and has not had any success with what they have tried in the past," says Dalfino.
Most people suffering with back pain that is due to disc compression issues try a variety of treatments - from chiropractic care, physical therapy, epidural injections, and eventually surgery. However, for many patients the conservative approach taken has been less than hopeful.
"I can't tell you how many patients come to me explaining that they have tried medications, physical therapy, water therapy, chiropractic care and steroid shots - all with little or no results. It's disheartening for these people."
And now there is a new answer. Since 2002, non-surgical spinal decompression has been helping hundreds of back and leg pain sufferers improve their conditions, and avoid invasive procedures such as back surgery.
Dr. James J. Dalfino, president and director of Connecticut Disc & Laser Therapy Centers located in Shelton, Connecticut specializes in disc related conditions of the spine, and has been able to help patients from ages 18 to 95 improve their back conditions, and in many cases eliminate back pain that is caused them a lifetime of pain and discomfort.
"I have had patients come to me suffering with back pain for 30 years or more. People who have been told by their primary doctors, neurologists, and orthopedic surgeons that there is nothing left that they can do for them. These are people who have come to us with little or no hope, and have been pleasantly surprised by their outcomes," Dalfino explains.
Non surgical spinal decompression utilizes the premise of decompressing injured discs of the lower back that are causing pressure onto nearby structures of the back, including nerves that create pressure.
"By decompressing the spine, we can help the disc heal, which in turn will elimiate pain and pressure in the lower back and leg."
As a matter of fact, Dr. Dalfino has been able to help even his own family overcome disc related back pain and avoid surgery.
"My father David developed a herniated bulging disc L5-S1 back in April 2008. He was in the emergency room for one week before released. He could barely walk and was out of work. I treated him with the DRX 9000 spinal decompression system, targeted only that disc, and he is completely painfree, back to doing everything he used to be able to do before his back gave out on him. Had I not had this technology, I can only imagine he would have been facing surgery soon."
To learn more about how you may be a candidate for this non-surgical procedure, contact Dr. Dalfino's office at 203-922-9277. Not everyone is a candidate for the DRX 9000 procedure, and only a full case evaluation by Dr. Dalfino will determine if you can be helped.
You can also visit the office website at http://www.CTDiscCenters.com as well as Dr. Dalfino's blog at http://www.DrDalfinoBlog.com. In addition, you can request a free report from Dr. Dalfino by visiting http://www.mydiscreport.com
###