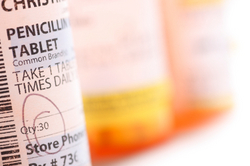 Roughly 1 in 10 Americans will report a history of allergy to penicillin. Only 10% of these patients have a true allergy.
Torrance, CA (PRWEB) March 4, 2010
Patients with a history of penicillin allergy now have some help. Joshua Davidson, MD, MPH, has a product called Pre-Pen, and can help patients learn with certainty about their allergies. Pre-Pen is FDA approved, and has benefits for patients, physicians and the surrounding communities. These benefits include fighting resistant bacteria and offering cheaper treatment for patients. Drug-resistant bacteria pose a major public health threat in today's world. Many patients labeled as penicillin allergic are treated with powerful antibiotics like Vancomycin and others in order to avoid possible allergic reactions. Continued use of these powerful antibiotics may lead to increased drug-resistant bacteria, limited availability of alternative treatment for severe infections, and greater side effects from powerful antibiotics.
Pre-Pen works like allergy skin tests. It is applied to the skin via a scratch test, and a reaction is assessed after 15 minutes. This means that within 15 minutes you can determine whether it is safe for you to take penicillin. A negative skin test informs doctors and patients that it's safe to take penicillin in the future. Penicillin is cheap and remains effective for many types of infections. It is therefore safe and economical for patients. In today's economy, doctors and patients are looking for affordable treatment options, and penicillin fits the bill.
Joshua Davidson, MD, MPH, completed his medical school training at UCLA in Los Angeles, and his specialty training in Allergy and Immunology at National Jewish Health, the #1 respiratory and allergy hospital in the United States. He recently opened a new allergy practice in Torrance, CA, and brings with him state-of-the-art knowledge and treatment. As an allergist, he is proud to have Pre-Pen available for his patients, and looks forward to helping many adults and children with their drug allergy concerns.
###