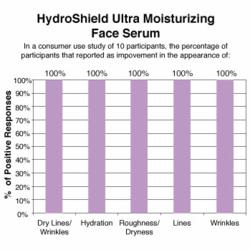 We always aim for 100% satisfaction, and we couldn't be happier that HydroShield Ultra Moisturizing Face Serum meets that high standard. - Dr. Adrienne Denese
New York, NY (PRWEB) February 19, 2013
SkinScience Labs, Inc., the company founded by Dr. Denese, creator of the internationally renowned HydroShield skincare range, has released the most recent in an ongoing series of scientific studies of their products.
The study was designed to test the effectiveness of HydroShield Ultra Moisturizing Face Serum, which was met with an unbeatable level of approval from participants. 100% of participants indicated their approval for every factor that was tested. Every person who took part in the study found that the serum produced visible improvements in their skin's hydration levels as measured through a reduction of wrinkles and dry lines, and noticeable lessening of skin dryness and roughness.
Dr. Denese's HydroShield Ultra Moisturizing Face Serum is the culmination of many years of skin science investigation, which resulted in a proprietary formula composed of ingredients carefully chosen to augment the skin's natural defense systems, which are under daily attack by harmful environmental factors like air conditioning, dry air, and heat. Using skin identical lipids, ceramides, and glycolipids, among other ingredients, the serum reinforces the lipid layer responsible for retaining moisture.
The new study shows the practical consequences of DrDenese's commitment to finding scientific remedies for the causes of visible skin aging. Moisture loss is one of the key factors responsible for skin losing its youthful, vibrant appearance. Dry skin is dull, wrinkled, and rough, while well-hydrated skin remains bright, smooth, and wrinkle-free.
"Once again, SkinScience Labs has proven itself with an industry-leading, science-based product that works in the real world," observed company founder, Dr. Adrienne Denese, "We're proud of our scientific work, but what matters the most to us is that the thousands of people who entrust their skin to our products are seeing unparalleled results. We always aim for 100% satisfaction, and we couldn't be happier that HydroShield Ultra Moisturizing Face Serum meets that high standard."
HydroShield Ultra Moisturizing Face Serum is part of a range of products designed to work together in Dr. Denese's Six Step Skin Care Program. Further studies will be released in the coming months.
###
About Dr. Denese Dr. Adrienne Denese completed her post-doctoral fellowship at Harvard University with a medical specialty in anti-aging medicine. Her company, SkinScience Labs, Inc., and its exclusive line of scientifically developed skin care products, has become one of the largest and fastest growing privately owned businesses in the anti-aging and skin treatment markets. SkinScience Labs, Inc. develops, markets and distributes premium professional skin care products under the highly successful and internationally recognized Dr. Denese® brand. To learn more about Dr. Denese or to purchase her skin care products please visit http://www.drdenese.com.