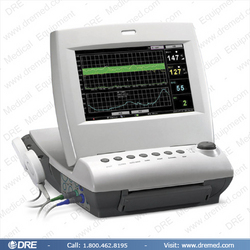 Louisville, KY (Vocus) July 30, 2010
DRE, Inc., a premier surgical and medical equipment supplier, has broadened its selection of new and professionally refurbished healthcare equipment to include the DRE Kindred, a cost-effective fetal monitor with a 10.2-inch folding color screen.
The DRE Kindred is very compact and features dual fetal heart rate monitoring, as well as TOCO monitoring. It also has a multi-crystal pulsed waved transducer, an FM marker and automatic fetal movement detection, and features signal overlap verification.
Weighing only about six kilograms, the DRE Kindred is easy to move and takes up minimal work surface space. It comes with a 14.8 V rechargeable Lithium-ion battery that provides up to four hours of continuous working time, and its high-speed built-in recorder prints up to 25 mm per second.
DRE is a resource for new and refurbished medical equipment for healthcare facilities throughout the world. In addition to the DRE Kindred, DRE distributes new and pre-owned anesthesia equipment such as the DRE Integra VSO2, a fully-functional portable anesthesia machine that is great for surgery centers that require more than one anesthetic agent. The DRE Integra SP VSO2 offers a low cost of ownership over a ten-year life cycle and is available with a hardshell carrying case.
DRE recently rolled out the DRE Anetic-P, a mobile surgery trolley that combines the maneuverability of a stretcher with positioning and stability of a surgery table. For gynecological surgery, the DRE Anetic-P mobile operating table provides a patient platform traversed to the foot-end for improved access. It has four remotely-activated powered functions and can support weights up to 550 pounds.
Medical facilities can rely on DRE for a variety of surgical lighting, including the DRE Maxx Luxx 3, a surgery lighting system with an extremely cool output. The DRE Maxx Luxx 3 provides increased efficiency over traditional halogen light sources, provides superb color temperatures and features a rated bulb life of more than 10,000 hours.
DRE Kindred fetal monitors are available now from DRE. Obstetricians, gynecologists and fertility physicians can learn more about the DRE Kindred, as well as other new and professionally refurbished products, by visiting http://www.dremed.com.
About DRE, Inc.
DRE is a premier medical and operating room equipment supplier. DRE provides a combination of new and professionally refurbished or used medical equipment to industry professionals around the globe. For the third consecutive year, Business First of Louisville has named DRE one of the 50 fastest growing businesses in the Greater Louisville area.
###