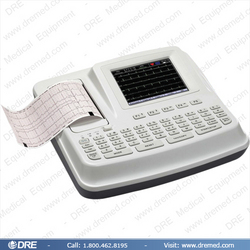 Louisville, KY (Vocus) July 16, 2010
DRE, Inc., a premier surgical and medical equipment supplier, offers the cost-effective DRE True ECG Plus, a portable ECG monitor convenient for mobile use and offices with limited space.
The portable, lightweight DRE True ECG Plus is convenient for mobile use and is small enough to fit most surfaces in physician's offices, hospitals and emergency response vehicles. Its simple interface features an alphanumeric keyboard and one-touch operation for easy data input and operation.
With the DRE True ECG Plus, physicians can easily transfer data from the ECG system to a PC via an Ethernet or RS232 connection. Plus, optional Smart ECG Viewer software provides seamless PC-based data management.
Features of the DRE True ECG Plus EKG monitoring system include:

A built-in rechargeable battery
Pacemaker detection
Automatic measurement and interpretation for adult and pediatric patients
Two-step exercise testing with periodic recording
Heart rate variability (HRV) analysis
Recording: Internal thermal printer and connectivity with an external printer
The DRE True ECG Plus is also available with a variety of optional features:
Internal storage for up to 200 ECGs
PC-based data management software (Smart ECG Viewer)
Report exportation in XML format
Memory and data transmission: SD card and card reader, and flash drive
Rolling stand and carrying bag
In addition to the DRE True ECG Plus, DRE's selection of ECG monitoring products includes the DRE True ECG Advance, a twelve-channel ECG/EKG system available with an optional stress testing system. It features a 12.1" color touch-screen and provides automatic measurement and interpretation testing with an authoritative CSE database.
Physicians looking for an ECG system with maximum performance can rely on the DRE True ECG 12T. It is a 12-lead ECG system that features a built-in high-resolution printer and an 8.4" color touch-screen.
The DRE Velocity EKG is a 12-channel PC-based EKG system that operates on nearly any PC, eliminating hardware costs and allowing physicians to print EKG data on standard paper. It provides most of the features of an interpretive EKG system for a fraction of the cost.
In addition to EKG/ECG monitoring solutions, DRE offers a variety of new and professionally refurbished medical and surgical equipment. DRE's selection of healthcare equipment includes the Colin BP-S510 patient monitor, DRE Integra AV-S anesthesia machine, and DRE Maxx Luxx 3 surgery lighting system.
The DRE True ECG Plus is available now from DRE. Physicians can learn more about DRE's EKG and ECG solutions, as well as other new and professionally refurbished medical products, by visiting http://www.dremed.com.
About DRE, Inc.
DRE is a premier medical and operating room equipment supplier. DRE provides a combination of new and professionally refurbished or used medical equipment to industry professionals around the globe. For the third consecutive year, Business First of Louisville has named DRE one of the 50 fastest growing businesses in the Greater Louisville area.
###