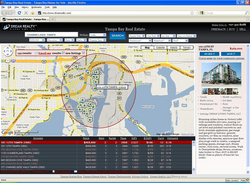 Our beBY™ search engine will change the way many people search for property. Where do you want to beBY?™
Tampa, FL (PRWEB) March 17, 2010
Where do you want to beBY?™ After several years of listening to real estate client requests, Dream Realty has released their beBY™ real estate search engine.
The search engine is based on the idea that most real estate buyers are looking to be by somewhere. It could be the beach, their work, their family, downtown, the airport, a city, even a cross street or neighborhood. One just enters where they want to be by and how close. It's really as simple as that.
Currently, you can use beBY™ to find homes and condos throughout the Tampa Bay area. You can easily refine your search by price, beds, baths, waterfront, lot size, age of property, time on market and foreclosure.
According to Sheldon Goldberg, broker for Dream Realty, "We have been listening and we delivered. beBY™ is the most flexible and easy to use real estate search out there"
The feedback so far has been very encouraging. Most searchers find the search interface addicting.
The search engine can be found on the home page of http://www.DreamRealty.com.
###