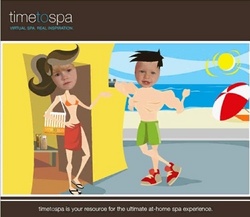 MIAMI (PRWEB) October 2, 2007
The timetospa Dream Date Machine (http://www.dreamdatemachine.com) requires only a picture of yourself and your date of choice to create a dazzling skit of your perfect date. Got a friend with a fancy for someone special? Create a Dream Date for her and forward the results!
timetospa, the virtual spa shop and lifestyle guide for men and women is introducing the interactive Dream Date Machine to further the philosophy that confidence is real beauty. The timetospa Dream Date Machine is a customizable flash-game that delivers hilarious custom animation of two animated protagonists to create the ultimate dream date.
The game is easy-to-use and offers everyone on the web an entertaining way to virtually daydream (or tease their friends with visions of cringe-inducing dates!) Virtual Daters even have the opportunity to post a snapshot of their dream date in the shape of a Polaroid picture to any blog or website with our personalized Dream Date web widget - http://www.timetospa.com/page.asp?PTID=3089.
Dream Date enthusiasts who participate will also be able to receive exclusive offers on all purchases on http://www.timetospa.com.
timetospa, the ultimate at-home spa experience, encourages everyone to take some time out for themselves to enhance their well-being and to, in turn, amplify their beauty inside and out. The timetospa Dream Date Machine inspires humor and grants its users a bit of respite from an otherwise hectic lifestyle.
About timetospa.com: timetospa.com is a virtual spa, shop and lifestyle guide that you can enjoy on your own time. Anyone who visits timetospa.com can receive a free, live online consultation with a certified aesthetician or massage therapist on any skin/hair/body care issue. timetospa.com ensures that you never have to feel unsure about buying skin care products again, with its knowledgeable staff and informative articles. timetospa.com is also the online resource for luxury skin and beauty care products, including Elemis, La Therapie, Steiner Hair, Jou, GoSmile, Biofreeze and Ionithermie.